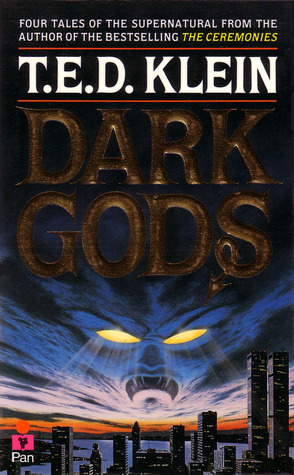 I recently reviewed T. E. D. Klein's novel, The Ceremonies (you can read that review here), and decided to reread Klein's novella collection, Dark Gods (1985). Dark Gods includes four long stories filled with dread.
"Children of the Kingdom" explores the relationship between a man and his grandfather. The assisted living facility where the grandfather resides deals with continuous gnawing of the power cords of the laundry machines. The owner claims it's done by rats, but the culprit is much more menacing.
"Petey" takes place in a old home where a party is going on. One of the women at the party engages the other guests with a series of Tarot readings. And, the former owner of the house, now in an insane asylum, issues warnings…which are ignored. You can guess where this leads.
"Black Man With a Horn" is a moody story with the haunting presence of creatures from Lovecraft's stories.
"Nadelman's God" is my favorite story in Dark Gods. An advertising executive named Nadelman is contacted by a rock & roll group who want to use a poem he published in a college literary magazine as the lyric to one of their songs. Nadelman agrees and this leads to another situation years later when Nadelman receives a letter from a man who claims he's following the "instructions" in the song to create a God. T.E.D. Klein writes stories that stay with you long after you finish reading them. GRADE: B+
Table of Contents:
Children of the kingdom — 1
Petey — 73
Black man with a horn — 129
Nadelman's god — 175