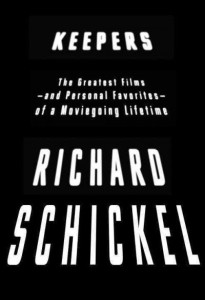 I've been reading Richard Schickel's movie reviews for decades. Schickel is the movie reviewer at TIME magazine. I've always found Schickel's reviews to be even-handed and perceptive. in Keepers, Schickel reminisces about his long career watching movies and picks films that he thinks are the greatest. As you would expect, Schickel's choices are quirky. He considers Disney's Pinocchio to be a masterpiece. Schickel loves King Kong. He thinks Henry Fonda is the best actor of Hollywood's Golden Age. Schickel's favorite movie is Fargo. His favorite movie star is Errol Flynn. There are plenty of insights gained over a long career of sitting in the dark and watching movies. You'll want to go back and watch many of the films Schickel writes about in Keepers. GRADE: A
TABLE OF CONTENTS.
Notes Toward the Definition of an Obsession
Speaking of Silence
Exceptions
Ironies
The System
Men with Movie Cameras
A Studio's Way
"The Son of a Gun Is Nothing but a Tailor"
A Touch of Lubitsch
Two Cheers for Mr. Muckle
Shrieks, Freaks, Geeks
What's Funny About That?
Greatness
Ornaments of the Age
"Up This Hero Goes"
Getting Serious
Masterpieces
Don't You Know There's a War On?
Children of Paradise
Crime Waves
Why We Fight
Muse of Fire
Here's Looking at You, Kid
The Best Years
Fasten Your Seat Belts
Don't Unfasten Those Seat Belts Yet
Mixed Baggage
To Live
Bergman
At Last
The Criminal Life
Clint
Belle de Jour
The Apu Trilogy
Fellini
Strange Loves
Getting Started, or, I Thought You'd Never Ask
The Wrath of God
Or Is It His Silence?
Marty
Earning It, or, Spielberg's Way
Clint Again
Tarnished Gold
Kubrick Again
The Force Is with Us
Losing It
"No Animals Were Harmed…"
We've Got to End Somewhere
That Wonderful Year
1987
Acknowledgments
Index.