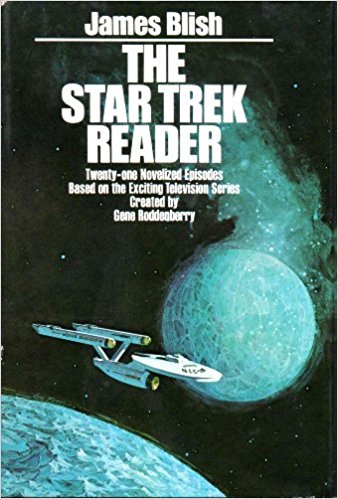 James Blish had a successful career as a Science Fiction writer before he started writing "novelizations" of Star Trek episodes. But, as fate would have it, Blish is almost entirely remembered today because of his Star Trek work. James Blish wrote a dozen books of stories based on Star Trek episodes. The Star Trek Reader is an omnibus of three of those volumes. Now, you would think the editors would approach reprinting those volumes in chronological order…but no. The second, third, and eighth books are included in this omnibus edition. The other nine books were collected in other omnibus volumes, but in some ways this first volume is the best. Three of my favorite Star Trek episodes are included: "Arena" (teleplay by Gene L. Coon based on a story by Fredric Brown), "The City On the Edge of Forever," (teleplay by Harlan Ellison), and "The Trouble With Tribbles" (teleplay by David Gerrold). What's your favorite Star Trek episode?
TABLE OF CONTENTS:
Book 1: Star trek 2.
Arena.
A taste of Armageddon.
Tomorrow is yesterday.
Errand of mercy.
Court martial.
Operation: annihilate!
The city on the edge of forever.
Space seed.
Book 2: Star trek 3.
The trouble with tribbles.
The last gunfight.
The doomsday machine.
Assignment: Earth.
Mirror, mirror.
Friday's child.
Amok time.
Book 3: Star trek 8.
Spock's brain.
The enemy within.
Catspaw.
Where no man has gone before.
Wolf in the fold.
For the world is hollow and I have touched the sky.