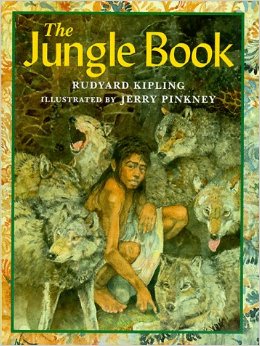 I plan to see the new Disney version of The Jungle Book so I reread The Jungle Book. I first read The Jungle Book as a kid and had some vague memories of Mowgli, the baby raised by wolves. I did remember my favorite character in these stories: Kaa the python (the star of my favorite story in this collection, "Kaa's Hunting:). If you're a fan of Edgar Rice Burroughs's Tarzan tales, you'll see where ERB might have gotten his inspiration in these stories. Have you read The Jungle Book?
Table of Contents:
•Mowgli's brothers
• Hunting song of the Seeonee Pack
• Kaa's hunting
• Road song of the bandard-log
• How fear came
• The law of the jungle
• "Tiger-Tiger!"
• Mowglie's song
• Letting in the jungle
• Mowglie's song gainst people
• The king's ankus
• THe song of the little hunter – Red dog
• Chil's song
• The spring running
• The outsong
• "Rikki-tikki-tavi"
• Darzee's chant.