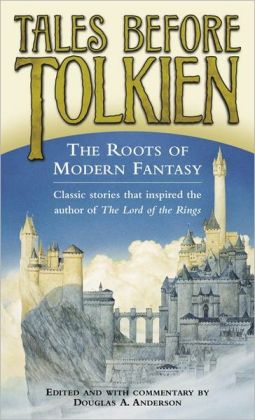 To get into the spirit of next week's second movie installment of The Hobbit, I read this collection that is subtitled: "Classic stories That Inspired the Author of The Lord of the Rings." This is blatant marketing. As Douglas Anderson writes several times in the commentary to these stories, Tolkien "might" have read them. Of course, some of these stories Tolkien did read (we know that because he wrote about them) like "The Song of Sigurd" by Andrew Lang. I have a few quibbles. Anderson could have chosen some stronger stories by Lord Dunsany and Arthur Machen. But, overall, Tales Before Tolkien is an enjoyable anthology if a tad uneven. My favorite stories were by Andrew Lang, H. Rider Haggard, and L. Frank Baum. Inexpensive copies are available at the usual Internet sites. GRADE: B
TABLE OF CONTENTS:
Elves /Ludwig Tieck
Golden key /George MacDonald
Puss-cat mew /E.H. Knatchbull-Hugessen
Griffin and the minor canon /Frank R. Stockton
Demon pope /Richard Garnett
Story of Sigurd /retold by Andrew Lang
Folk of the mountain door /William Morris
Black heart and white heart: a Zulu idyll /H. Rider Haggard
Dragon tamers /E. Nesbit
Far Islands /John Buchan
Drawn arrow /Clemence Housman
Enchanted buffalo /L. Frank Baum
Chu-bu and Sheemish /Lord Dunsany
Baumoff explosive /William Hope Hodgson
Regent of the north /Kenneth Morris
Coming of the terror /Arthur Machen
Elf trap /Francis Stevens
Thin queen of Elfhame /James Branch Cabell
Woman of the wood /A. Merritt
Golithos the ogre /E.A. Wyki-Smith
Christmas play /David Lindsay.