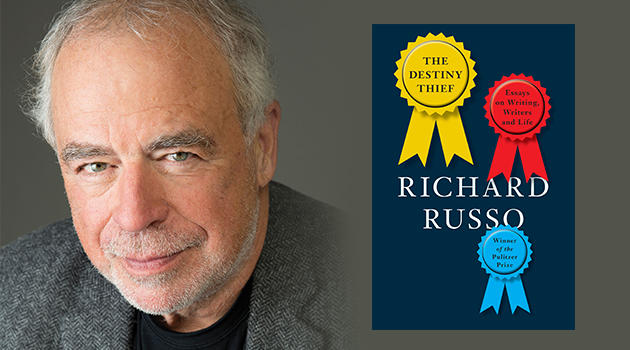 I'm a fan of Richard Russo's comic novels, The Risk Pool, Nobody's Fool, and–my favorite–Straight Man. The Destiny Thief is a slim collection of Russo's non-fiction, but his humor and wit shine through every essay in this book.
My favorite essay is "Getting Good," as in getting good at writing. Here's a little of what Russo says about that:
"Systematically removing potential naysayers–teachers, agents, other writers, editors–from one's life might feel liberating, but its likely effect is to lengthen, not shorten your apprenticeship. John Lennon, playing eight-hour shifts in Hamburg strip clubs with his fellow Beatles, must have felt like a slave, and like every slave he must've resented his shackles, but he would've noticed which songs worked best and which parts of the songs garnered the most applause. Most importantly, when the drunks' gaze drifted back to the naked girls, he would have heard that silence loud and clear, even over the thunder of his amplified guitar, and understood it as advice: Stop doing this, or Stop doing it this way, or Try something else, because this isn't working." (p. 90-91)
Russo, who loves music, also shares the story where he bought an excellent 12-string guitar. And, although he practiced and performed with it, Russo realized the instrument was better than his modest skills. He abandoned his dreams of a music career and focused on writing.
I enjoyed Russo's "Address to the Graduates of Colby College" which is full of practical advice. After reading Russo's praise of Dickens' "The Pickwick Papers" I wanted to drop everything and reread that classic! I had the same reaction after finishing "Mark Twain's Non-Fiction." "Imagining Jenny" tells a moving story of one of Russo's friends who transitions from a male to a female with Russo's support. And I really enjoyed Russo's comments on Ross Macdonald and Eudora Welty especially their correspondence in Meanwhile There Are Letters in "The Boss in Bulgaria."
All in all, The Destiny Thief delighted me with its wisdom and charm. GRADE: A
TABLE OF CONTENTS:
The Destiny Thief 3
The Gravestone and the Commode 25
Getting Good 45
Address to the Graduates of Colby College 107
The Pickwick Papers 117
Imagining Jenny 131
What Frogs Think: A Defense of Omniscience 155
Mark Twain's Nonfiction 177
The Boss in Bulgaria 193
Acknowledgments 207