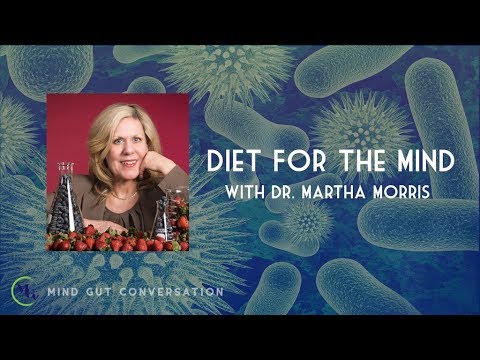 Dr. Martha Claire Morris shares 25 years of research into the connection between diet and Alzheimer's. The research found that study participants had a lower risk of Alzheimer's disease and a slower rate of cognitive decline with:
1. an intake of vitamin E in their diet
2. intakes of vitamin B12, folate, and niacin
3. intakes of lutein, beta-carotene, and bio-flavonoids
4. consumption of seafood and omega-3 fatty acids
5. daily consumption of vegetables–in particular, leafy green vegetables
6. dietary fat comsposition that is low in saturated and trans-fats and high in vegetable fats
(p. 8)
As you might guess, possessed foods and fast foods accelerated cognitive decline. Morris also recommends berries (especially blueberries) because they are packed with antioxidants and phytrochemicals. And they taste good! In addition to all the research findings, Morris and her daughter, a nutritionist, include 80 brain-friendly recipes. I tried the Blueberry-Apple Pancakes (p. 143) and found them to be delicious!
If you want to stave off Alzheimer's and dementia, Diet for the Mind is a good place to start. Are you worried about getting Alzheimer's? GRADE: A
TABLE OF CONTENTS:
Introduction: Where the Heart and Mind Meet ix
Part I Mind-Healthy Science
Chapter 1 Cognitive Decline and Dementia 3
Chapter 2 Essential Nutrients for the Brain 33
Chapter 3 Foods for Everyday Eating 53
Chapter 4 Foods to Eat Every Week 69
Chapter 5 Brainless Foods That Harm the Mind 87
Chapter 6 Comparing the Mediterranean, DASH, and MIND Diets 103
Part II Mind-Healthy Lifestyle and Recipes
Chapter 7 Create Your Healthiest Life 119
Chapter 8 Breakfast 139
Chapter 9 Whole Grains 151
Chapter 10 Leafy Greens 167
Chapter 11 Other Vegetables 181
Chapter 12 Beans and Legumes 195
Chapter 13 Seafood and Poultry 211
Chapter 14 Entertaining 225
Chapter 15 Snacks and Desserts 239
Acknowledgments 251
Notes 255
Index 261