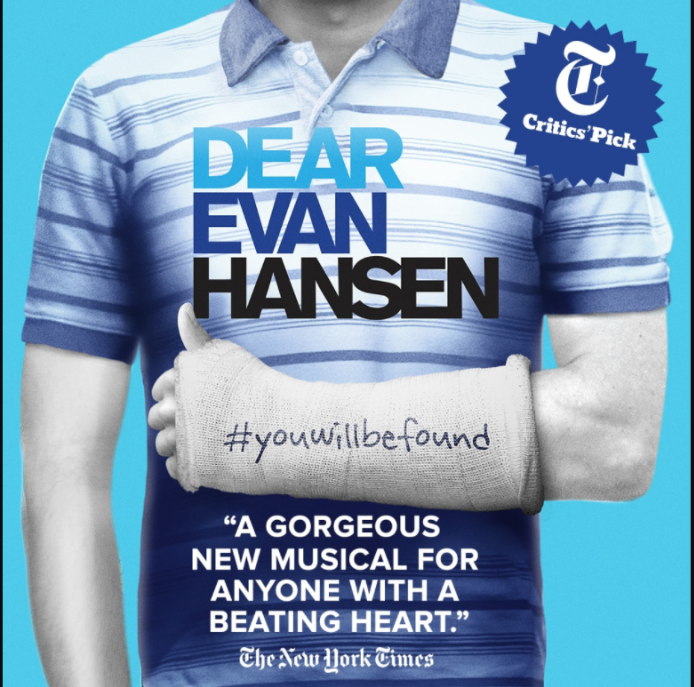 It's astonishing that a play about mental health and teen suicide could use those elements to produce a successful musical. Dear Evan Hansen won six Tony Awards in 2017: Best Musical, Best Book of a Musical (Steven Levenson), Best Original Score (Benj Pasek and Justin Paul), Best Performance by a Leading Actor in a Musical (Ben Platt), Best Performance by an Actress in a Featured Role in a Musical (Rachel Bay Jones), and Best Orchestrations (Alex Lacamoire).
Evan Hansen is a socially awkward high school student. His mother has sent Evan to a counselor and Evan's taking anti-anxiety medication. As part of his therapy, Evan is supposed to write to himself emails every day extolling how great his day will be (hence the title: "Dear Evan Hansen").
Evan has a crush on a girl in the Jazz Band, Zoe, but through a series of unlikely events, one of Evan's emails gets printed out and falls into the hands of Zoe's psycho brother, Connor. Connor commits suicide and Evan's email is found on his body. Zoe's parents then think Connor and Evan were friends.
Evan decides to makes up a story that he and Connor were Good Friends. This seems to bring some relief to Zoe's parents so Evan continues to elaborate his fictitious story. You can pretty much guess what's going to happen in ACT II. Diane liked Dear Evan Hansen more than I did. GRADE: B
SONG LIST:
Act 1
"Anybody Have a Map?" – Heidi, Cynthia
"Waving Through a Window" – Evan
"Waving Through a Window" (Reprise #1)* – Evan
"Waving Through a Window" (Reprise #2)* – Alana
"For Forever" – Evan
"Sincerely, Me" – Connor, Evan, Jared
"Requiem" – Zoe, Cynthia, Larry
"If I Could Tell Her" – Evan, Zoe
"Disappear" – Connor, Evan, Alana, Jared, Larry, Cynthia, Zoe
"You Will Be Found" – Evan, Alana, Jared, Zoe, Company, VC (virtual community)
Act 2
"Sincerely, Me" (Reprise)* – Connor, Jared
"To Break in a Glove" – Larry, Evan
"Only Us" – Zoe, Evan
"Good for You" – Heidi, Alana, Jared, Evan
"For Forever" (Reprise)* – Connor
"You Will Be Found" (Reprise)* – Alana, Jared, VC
"Words Fail" – Evan
"So Big/So Small" – Heidi
"Finale" – Evan, Company