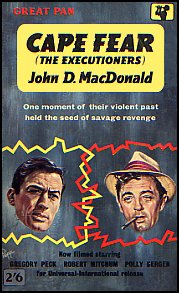 Our best wishes go out to Ed Gorman for a quick recovery as he continues to convalesce at home. In the March issue of Mystery Scene magazine, Ed wrote an article on "My 10 Favorite John D. MacDonald Standalone Novels." And here's the list:
1. Dead Low Tide
2. Soft Touch
3. Deadly Welcome
4. Murder in the Wind
5. The Executioners
6. Slam the Big Door
7. The End of the Night
8. A Key to the Suite
9. A Flash of Green
10. The Drowner
This week we're up to Number Five. The Executioners (1957)–better known as Cape Fear–is John D. MacDonald's best known novel partly because of the two movies from 1962 and 1991 that were based on it. An attorney testifies against a rapist. The rapist is convicted and sent to prison. While in prison, the rapist plots revenge. When he gets out, the rapist stalks the attorney's family. JDM really ratchets up the suspense in this novel. The attorney has to choose between his ideals and saving his children from a monster.