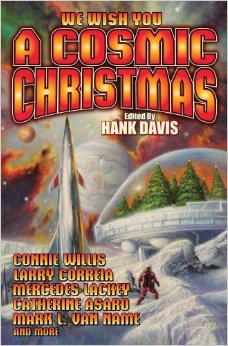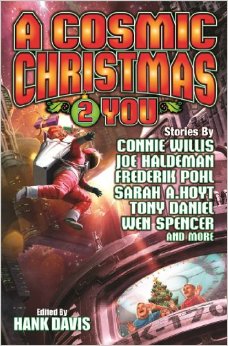 Who besides Hank Davis knew there were so many science fiction stories about Christmas! Here are two volumes of Yuletide stories with a wide variety so there's something here for everyone. Some of the stories are classics, some are recent. I liked Manly Wade Wellman's "On the Hills and Everywhere" as well as S. N. Dyer's "Space Aliens Saved My Marriage." If you're looking for something to ignite your Holiday Cheer, these stories will do it!
TABLES OF CONTENTS:
VOLUME 1:
KRIS KRINGLE GOES KOSMIC by Hank Davis
DANCE IN BLUE by Catherine Asaro
LOBO, ACTUALLY by Mark L. Van Name
ON THE HILLS AND EVERYWHERE by Manly Wade Wellman
ANGEL IN FLIGHT by Sarah H. Hoyt
MAD HOLIDAY by George O. Smith
THE GRIMNOIR CHRONICLES: DETROIT CHRISTMAS by Larry Correia
THE VAMPIRES WHO SAVED CHRISTMAS by S. N. Dyer
AND VISIONS OF SUGAR PLUMS . . . by S. N. Dyer
THE SEASON OF FOREGIVENESS by Poul Anderson
DUMB FEAST by Mercedes Lackey
ROADS by Seabury Quinn
NEWSLETTER by Connie Willis
VOLUME 2:
•Introduction: the shape of Christmas to come / by Hank Davis
• Angel of light / by Joe Haldeman
• And to all a good night / by Tony Daniel
• Christmas card / by Connie Willis
• Away in a manger / by Wen Spencer
• Happy Birthday, dear Jesus / by Frederik Pohl
• Shepherds and wolves / by Sarah A. Hoyt
• In the psirit of Christmas / Tee Morris
• Wormhole magic / Marianne Plumridge
• A Christmas in amber / by Scott William Carter
• Space aliens saved my marriage / by S. N. Dyer
• Zwarte Piet's tale / by Allen Steele
• How Thorvald the bloody-minded saved Christmas / By Esther Friesner
• Julian : a Christmas Storu / by Robert Charles Wilson.