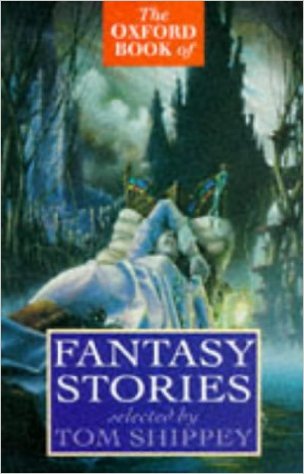 Back in the 1990s, publishers were keen on books that were "The Best of the 20th Century Blah-Blah-Blah" in various genres. Dozens of books of this type flooded the bookstores (remember them?) The Oxford University Press got into this market in 1994 with books like Tom Shippey's The Oxford Book of Fantasy Stories. Shippey's choices hit all the right notes: H.P. Lovecraft rubs shoulders with Ray Bradbury and Poul Anderson. And examples of many of the classic fantasy characters found their way into this collection: Fritz Leiber's Fafhrd and the Gray Mouser, C. L. Moore's Jirel of Jory, and Manley Wade Wellman's Silver John. If you're looking for a solid collection of classic fantasy stories, The Oxford Book of Fantasy Stories delivers. GRADE: A
TABLE OF CONTENTS
The Demon Pope (1888), Richard Garnett
The Fortress Unvanquishable, Save for Sacnoth (1908), Lord Dunsany
Through the Dragon Glass (1917), Abraham Merritt
The Nameless City (1921), H. P. Lovecraft
The Wind in the Portico (1928), John Buchan
The Tower of the Elephant (1933), Robert E. Howard
Xeethra (1934), Clark Ashton Smith
Jirel Meets Magic (1935), Catherine L. Moore
The Bleak Shore (1940), Fritz Leiber
Homecoming (1947), Ray Bradbury
See You Later (1949), Henry Kuttner
Liane the Wayfarer (1950), Jack Vance
The Desrick on Yandro (1952), Manly Wade Wellman
The Silken-Swift (1953), Theodore Sturgeon
Operation Afreet (1956), Poul Anderson
The Singular Events which Occurred in the Hovel on the Alley off of Eye Street (1962), Avram Davidson
The Sudden Wings (1962), Thomas Burnett Swann
Same Time, Same Place (1963), Mervyn Peake
Timothy (1966), Keith Roberts
The Kings of the Sea (1968), Sterling E. Lanier
Not Long Before the End (1969), Larry Niven
The Wager Lost by Winning (1970), John Brunner
Lila the Werewolf (1974), Peter S. Beagle
Johanna (1978), Jane Yolen
The Erl-King (1979), Angela Carter
Beyond the Dead Reef (1983), James Tiptree Jr.
Subworld (1983), Phyllis Einstein
Bite-Me-Not or Fleur de Fur (1984), Tanith Lee
The Night of White Bhairab (1984), Lucius Shepard
Thorn (1986), Robert Holdstock
Troll Bridge (1992), Terry Pratchett
Select Bibliography
Sources
Source Acknowledgements.