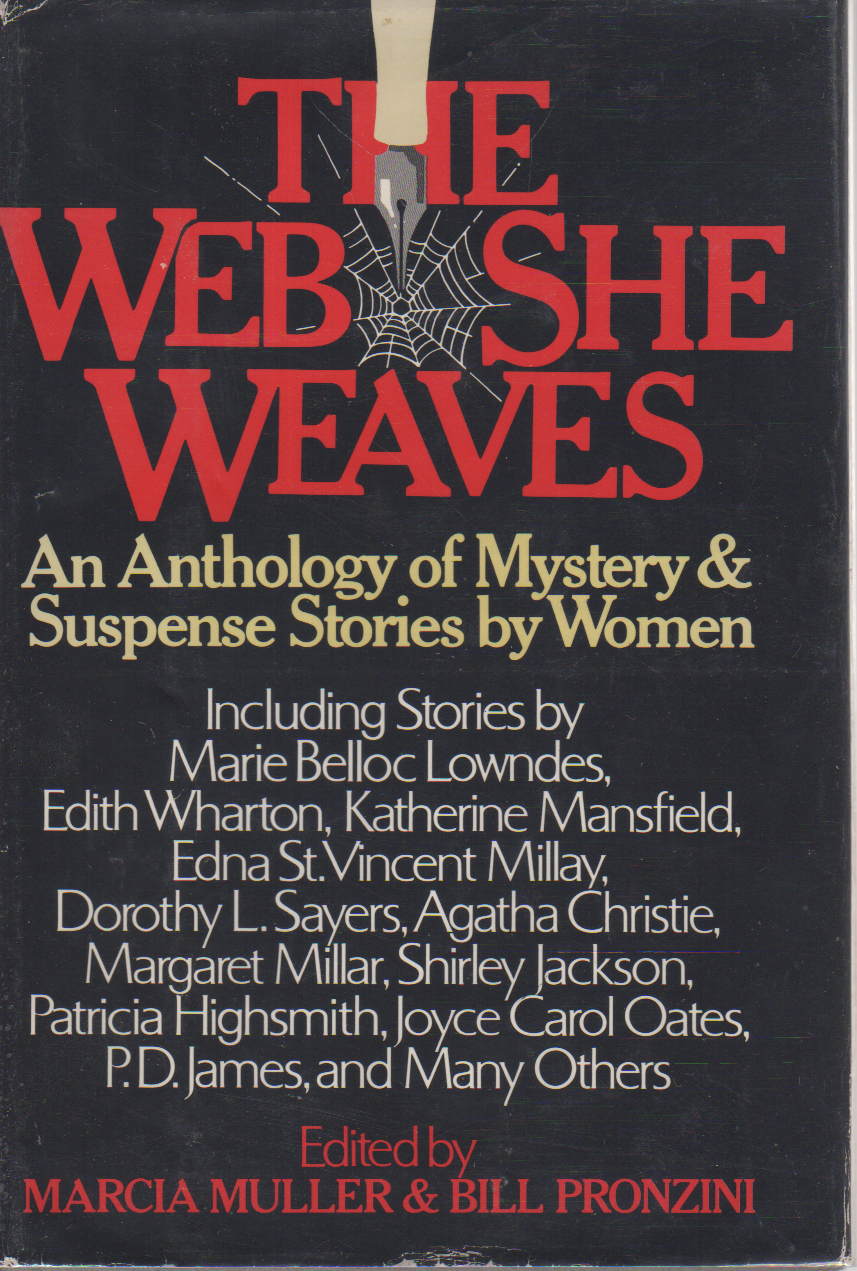 I picked up this anthology from 1983 at the American Association of University Women Book Sale. As you can see from the variety of stories, Marcia Muller and Bill Pronzini aptly subtitled The Web She Weaves with "An Anthology of Mystery and Suspense Stories By Women." Some classics like Marie Belloc Lowndes's "The Lodger" and "The Woman in the Store" by Katherine Mansfield are familar. But stories like Craig Rice's "His Heart Could Break" and Celia Fremlin's "The Locked Room" were new to me. Many of the major mystery and suspense writers are represented: Agatha Christie, Helen McCloy, Charlotte Armstrong, Patricia Highsmith, and P. D. James. If you're looking for an anthology of diverse but excellent stories, I recommend this one. GRADE: A
TABLE OF CONTENTS:
Introduction / [Marcia Muller and Bill Pronzini
The lodger / Marie Belloc Lowndes
The duchess at prayer / Edith Wharton
The man in the Inverness cape / Barones Orczy
The woman in the store / Katherine Mansfield
Murder in the Fishing Cat / Edna St. Vincent Millay
The lipstick / Mary Roberts Rhinehart
Postiche / Mignon G. Eberhart
Suspicion / Dorothy L. Sayers
Harlequin's Lane / Agatha Christie
His heart could break / Craig Rice
Chinoiserie / Helen McCloy
Good-bye, Miss Lizzie Borden / Lillian de la Torre
McGowney's miracle / Margaret Millar
St. Patrick's Day in the morning / Charlotte Armstrong
The possibility of evil / Shirley Jackson
The snail-watcher / Patricia Highsmith
The locked room / Celia Fremlin
The fall of a coin / Ruth Rendell
Double jeopardy / Susan Dunlap
My neighbor, Ay / Joyce Harrington
Norman and the killer / Joyce Carol Oates
Cattails / Marcia Muller
Great-aunt Allie's flypapers / P.D. James.