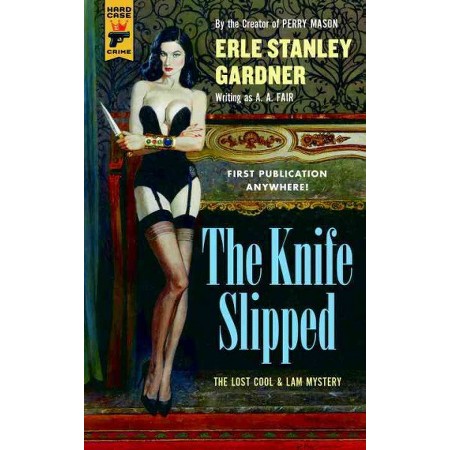 The Knife Slipped was supposed to be the second book in the Donald Lam/Bertha Cool series that Erle Stanley Gardner wrote under his A. A. Fair pseudonym. Gardner wrote to his editor, Hobson at William Morrow, with this description of The Knife Slipped:
"In any event, this Donald Lam-Bertha Cool yarn won't sell to the movies and won't sell to magazines. It's going to run around 75,000 words. It deals with a highly sexed girl from the country who cuts loose all at once and comes to the conclusion she is a nymphomaniac. Bertha Cool sails majestically through its pages, delightfully hard boiled. When she and Donald call on the wife of a city official, who puts on the high-hat act when Donald tires to talk with her, Berta Cool says, "Just a moment Donald, let me handle this bitch." The wife stiffens into frigid indignation and demands of Bertha Cool, "What was that word you used?" and Bertha Cool says, "Bitch, dearie, b-i-t-c-h, bitch. It means slut."
But when Hobson read the manuscript, he fired back a rejection of The Knife Slipped:
"I think it is cheap–crude, without being effective. All Bertha Cool does is talk tough, swear, smoke cigarettes, and try to gyp people. And I don't think much of the story itself. If that manuscript had come to me in the ordinary way, having no idea who the author was, I would have stopped reading about page 70 and the the book would have been rejected without even any hope on my part that the author would ever write a really good story." (Quotes can be found in Secrets of the Worlds best-Selling Wirter: The Storytelling Techniques of Erle Stanley Gardner by Francis L. and Roberta B. Fugate, Morrow, 1980; p. 203).
What Hobson objected to back in 1939–Bertha Cool's swearing and hard-boiled demeanor–seems normal now. And, Hobson misses the fact that Bertha Cool solves the mystery in The Knife Slipped. The Knife Slipped is a lot more like a Nero Wolfe mystery: Donald Lam gathers the clues and Bertha Cool solves the case. I enjoyed The Knife Slipped. I'm glad HARD CASE CRIME finally published it.