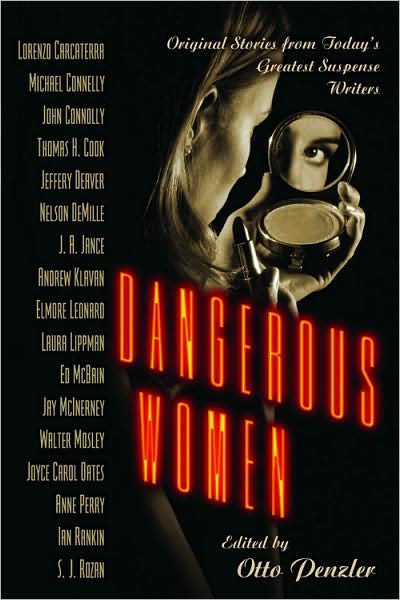 This special edition of Friday's FORGOTTEN BOOKS features short story collections. I decided on Dangerous Women edited by Otto Penzler because it's a very good anthology that somehow slipped under a lot of readers' radar in 2005. Plenty of Big Name Writers contributed to this project. Here's the Table of Contents:
Improvisation By Ed McBain
Cielo Azul By Michael Connelly
Give me your heart By Joyce Carol Oates
Karma By Walter Mosley
Dear Penthouse forum (a first draft) By Laura Lippman
Rendezvous By Nelson DeMille
What she offered By Thomas H. Cook
Her lord and master By Andrew Klavan
Mr. Gray's folly By John Connelly
A thousand miles from nowhere By Lorenzo Carcaterra
Witness By J. A. Jance
Soft spot By Ian Rankin
Third party By Jay McInerney
The last kiss By S. J. Rozen
Sneaker wave By Anne Perry
Louly and pretty boy By Elmore Leonard
Born bad By Jeffery Deaver
As you can see, there's something for everyone.
(This completes the April 2010 portion of my Short Story Reading Challenge. I will read and review one short story collection per month in 2010. To find out more about the Short Story Reading Challenge, be sure to click: "http://theshortstorychallenge.blogspot.com/">Short Story Reading Challenge.)