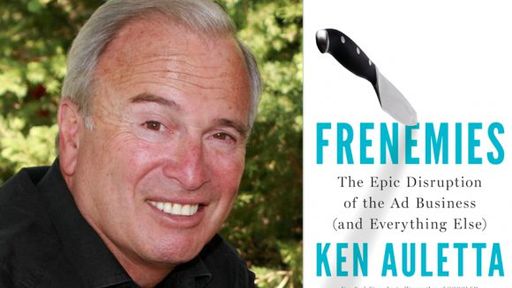 "We risk being the first people in history to have been able to make their illusions so vivid, so persuasive, so 'realistic' that they can live in them." (p.186) Daniel J. Boorstin made that prophetic statement in his classic The Image: A Guide to Pseudo-Events in America (1961). Ken Auletta, who wrote best sellers like Three Blind Mice (1991) and GOOGLED (2009), returns with Frenemies (2018). Auletta has followed the advertising industry for decades and delivers a nice history of ads along with an analysis of what today's social media and technology are doing to us.
Edward Bernays, a nephew of Sigmund Freud, invented public relations. Bernays wrote, "The conscious and intelligent manipulation of the organized habits and opinions of the masses is an important element in democratic society. Those who manipulate this unseen mechanism of society constitute an invisible government which is the true ruling power of our country." (p. 28) So true!
Auletta shows how advertising and messaging changed from the Mad Men and Don Draper days to today's data driven world. Auletta points out that AMAZON's Alexa and GOOGLE's Home monitor millions of people daily. FACEBOOK collects data from pharmacy records, store loyal cards, voter registration, mortgages, pay stubs, etc. (p. 159) GOOGLE collects data from its 3.5 billion daily searches, YouTube usage, and its About Me page offering advertisers your date of birth, phone number, where you work, mailing address, education level, where you've traveled, your nickname, photo, and email addresses (p. 159). AMAZON, of course, tracks everything you look at and buy on their web site.
Frenemies is a cautionary book. We've seen massive data breaches, stolen identities, and polling data shared with the Russians. More trouble ahead. Have you been hacked? GRADE: A
TABLE OF CONTENTS:
Introduction 1
1 The "Perfect Storm" 7
2 "Change Sucks" 27
3 Good-bye, Don Draper 39
4 The Matchmaker 51
5 Anxious Clients 75
6 "Same Height as Napoleon" 99
7 Frenemies 119
8 The Rise of Media Agencies 139
9 The Privacy Time Bomb 155
10 The Consumer as Frenemy 171
11 Can Old Media Be New? 187
12 More Frenemies 205
13 Marketing Yak-Yaks and Mounting Fear 223
14 The Client Jury Reaches Its Verdict 239
15 Cannes Takes Center Stage 247
16 Mad Men to Math Men 261
17 Dinosaurs or Cockroaches? 279
18 Good-bye Old Advertising Axioms 293
19 "No Rearview Mirror" 317
Acknowledgments 341
Bibliography 344
Index 346