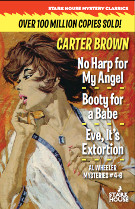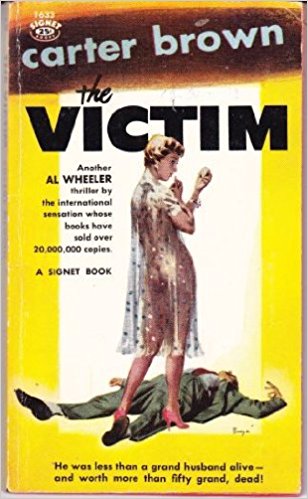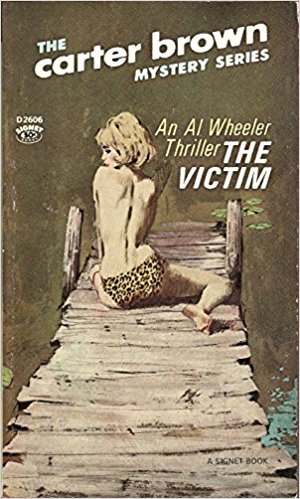 Stark House continues its reprinting of Al Wheeler mysteries by "carter brown" (pseudonym of Alan Geoffrey Yates). This new omnibus edition includes mysteries from 1956 (mysteries 4-6 in the series). I was fascinated by the way "carter brown" developed the unorthodox Homicide detective, Lieutenant Al Wheeler. Wheeler is not only a canny puzzle solver, he also has a eye for women. Yes, this is frothy story-telling, but for the men in the audience "carter brown" was writing for, these slim books were ideal entertainment (over 100 million copies of "carter brown" books were sold!).
No Harp for My Angel takes the reader on a vacation in Florida with Al Wheeler. But, of course, Wheeler finds trouble when he tries to pick up a gangster's girlfriend. Wheeler finds himself framed and his only option is to go undercover for the local police to investigate the schemes behind the disappearance of several young women. Explosive conclusion!
Booty for a Babe is set at a Science Fiction convention. One of the featured speakers is killed in front of his audience. Al Wheeler races against the clock (the convention is about to end!) to figure out the motive and method behind this bizarre murder. The plotting in Booty for a Babe is superior to all the previous Al Wheeler mysteries. There's plenty of humor in this book, too!
Eve, It's Extortion (aka, The Victim) challenges Al Wheeler with a death that might or might not be a murder. A drunk is fatally struck down by a hit-and-run driver. His beautiful widow stands to collect a large insurance settlement. Wheeler suspects there might be more to this case and unravels a conspiracy. But evidence is in short supply so Wheeler decides to manufacture his own.
If you're looking for fast-paced, clever, and enjoyable mysteries this Stark House omnibus triples your pleasure! GRADE: B+