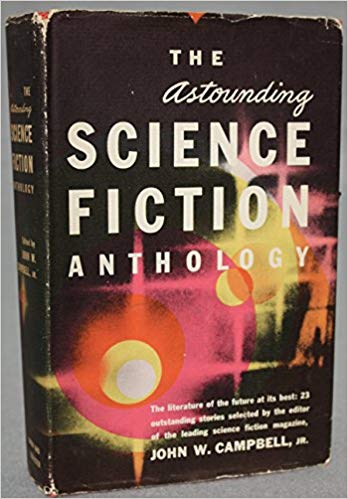 Back in 1952, this massive (585 pages!) anthology set the bar for SF anthologies. John W. Campbell, Jr.'s "Introduction" explains why he didn't include stories from the 1930s–he wanted to focus on the development of Science Fiction from 1941 to 1951. Campbell also stresses the importance of robots…in 1951! Clearly, the man was a visionary. In defending his choices for The Astounding Science Fiction Anthology, Campbell explains that he picked stories about "ideas" and not necessary "the best" stories written by these authors. The stories are presented in chronological order. This is another aspect of Campbell's strategy to demonstrate the development of the SF genre over a decade.
I'm also pleased that like Isaac Asimov and Martin H. Greenberg's THE GREAT SF STORIES anthology series, Campbell includes multiple stories by the great writers of this time period. All the great writers are here: Heinlein, Williamson, van Vogt, de Camp, Asimov, Kuttner & Moore, Leinster, Russell, Sturgeon, Simak, and del Rey. Later SF anthologies would include better stories and explore bolder themes, but The Astounding Science Fiction Anthology set the standard in the early 1950s. Have you read these great stories? GRADE: A
TABLE OF CONTENTS:
"Introduction", John W. Campbell Jr (1951) ix
"Blowups Happen", Robert A. Heinlein, (1940) 1
"Hindsight", Jack Williamson (1940) 43
"Vault of the Beast", A. E. van Vogt (1940) 60
"The Exalted", L. Sprague de Camp (1940) 84
"Nightfall", Isaac Asimov (1941) 105
"When the Bough Breaks," Henry Kuttner & C. L. Moore (1944) 137
"Clash by Night", Henry Kuttner & C. L. Moore, (1943) 160
"Invariant", John R. Pierce (1944) 213
"First Contact", Murray Leinster (1945) 218
"Meihem in ce Klasrum" (essay), W. K. Lessing (1946) 247
"Hobbyist", Eric Frank Russell (1947) 250
"E for Effort", T. L. Sherred (1947) 280
"Child's Play", William Tenn (1947) 326
"Thunder and Roses", Theodore Sturgeon (1947) 351
"Late Night Final", Eric Frank Russell (1948) 371
"Cold War", Kris Neville (1949) 404
"Eternity Lost", Clifford D. Simak (1949) 415
"The Witches of Karres", James H. Schmitz (1949) 440
"Over the Top," Lester del Rey (1949) 480
"Meteor", William T. Powers (1950) 492
"Last Enemy", H. Beam Piper (1950) 506
"Historical Note", Murray Leinster (1951) 561
"Protected Species" H. B. Fyfe (1951) 573
A Note About the Editor 585
"When The Bow Breaks" was published under the "Lewis Padgett" byline. "Clash By Night" was originally published under the "Lawrence O'Donnell" byline. "Meihem in ce Klasrum", a satirical piece, originally appeared under the "Dolton Edwards" pseudonym.