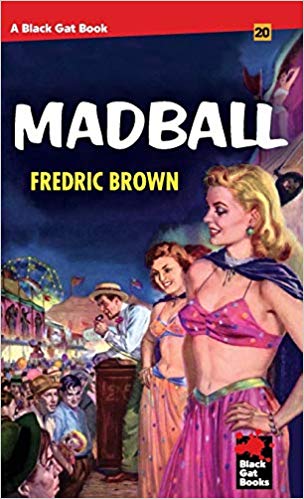 Fredric Brown's crafty carney tale, Madball, was first published in 1953 as a DELL paperback. Later, in 1961, Madball was reprinted by Gold Medal Books. A "condensed" version of Madball titled "The Pickled Punks" ran in The Saint Detective Magazine in June-July 1953.
Madball, set in a traveling carnival show, starts with a murder of a returning member of the troupe and escalates in suspense and action as the murderer needs to eliminate threats to discovery. In the process, the aspects of carney life and the behind-the-scenes reality of this strange way of life comes into focus through Fredric Brown's deft descriptions and plotting. Madball captures the excitement and danger of the lives of knife-throwers, exotic dancers, and fortune-tellers where someone in their midst is a murderer.
Stark House has done a brilliant job reprinting classic crime novels, especially in their BLACK GAT series. Madball may be the best of the bunch! GRADE: A
STARK HOUSE BLACK GAT BOOKS:
21. Stool Pigeon by Louis Malley
978-1-944520-81-6
A dark tale of New York gangsters in Little Italy and the revengeful cop who plans to bring down an old nemesis. "Every page of Stool Pigeon feels real and true."—Elgin Bleecker, The Dark Time. August 2019.
20. Madball by Fredric Brown
978-1-944520-74-8
"A terrific pulp novel that is filled with energy and excitement from cover to cover [filled] with all manner of thieves, murderers, strippers, carnival barkers, knife throwers, drifters, fortune tellers, and others…all linked by greed."–GoodReads. June 2019.

19. The Hoods Take Over Ovid Demaris
978-1-944520-73-1
"A powerful novel of big-time rackets, of gang wars and their victims, of ice-picks and bombs." ‐Pensacola News Journal. "Whoever said crime doesn&apost pay has never spoken to Ovid Demaris."‐New York Times. April 2019. 
18. Frantic Noel Calef
978-1-944520-66-3
A French crime thriller from 1956 filmed by Louis Malle as Elevator to the Gallows. "A truly noir crime book, perverse and scathing."—Agnieszka. February 2019. 
17. End of the Line by Delores & Bert Hitchens
978-1-944520-57-1
"Hitchens had a good ear and a dead-on eye for the various charades played by the human animals. She also wrote a series of railroad mysteries with her husband Bert."—Ed Gorman, Deadly Women. November 2018. 
16. You'll Get Yours by William Ard
978-1-944520-54-0
"Brooklyn-born Ard was one of the unjustly forgotten hard-boiled writers of the fifties. His career burned bright but fast … but in that time he managed to create several intriguing New York private eyes."—Thrilling Detective. August 2018.
15. Frenzy of Evil By Henry Kane
A twisted tale of male menopausal murder when a sadistic lawyer decides to get rid of his young wife's new lover. "Kane has an unnerving hyper-real way of writing dialogue… reminded me of David Mamet's terse, realistic dialogue in his early plays."—J. F. Norris, Pretty Sinister Books. May 2018.
14. The Men From the Boys By Ed Lacy
An ex-cop hits the skids when he takes a job as a seedy house dick. "It is a vivid, hard-hitting police story—with no punches pulled."—Will Ousler. February 2018.
13. Never Say No to a Killer By Clifton Adams
"A homicidal first-person thriller reminiscent of Horace McCoy's jailbreak classic, Kiss Tomorrow Goodbye… relentlessly vicious." —Cullen Gallagher, "The Desert, The Prairie, and The Gutter." November 2017.
12. The Last Notch Arnold Hano
A vintage noir western from the maverick editor of Lion Books, written as by "Matthew Gant," and published here for the first time under the author's name. Introduction by David Laurence Wilson, who calls Hano both "challenging and subversive." August 2017.
11. The Affair of Lady Westcott's Lost Ruby / The Case of the Unseen Assassin By Gary Lovisi
Two new thrilling Sherlock Holmes adventures featuring Inspector Alec MacDonald, affectionately nicknamed by Holmes as Mr. Mac. "Mr. Lovisi is one of the top 5 authors who write new Holmes stories."—David Chack. May 2017.
10. Angel's Flight By Lou Cameron
A crazy ruthless story of the music business told from the inside, from swing jazz to bebop to rock & roll. "Sings loud and true with terrific characters, real heart and is a joy to read…a noir masterpiece." —Gary Lovisi, Paperback Parade. February 2017
9. Woman on the Roof By Helen Nielsen
"Best whodunit of the year."—Springfield News and Leader. "Among the best mysteries of the year."—Mystery Writers of America. November 2016.
8. She Got What She Wanted By Orrie Hitt
"This is a fine novel, sleaze paperback or literary, [on] how difficult it was for a woman not to have to resort to using her body and sexuality to get ahead in life." –Michael Hemmingson, Those Sexy Vintage Sleaze Books. August 2016.
7. The Girl on the Bestseller List By Vin Packer
They all had a reason to hate Gloria Whealdon after she exposed their lives in her bestselling novel—but only one had a reason to kill. "I've read a number of Vin Packer's books, and this one remains a favorite." —Bill Crider's Pop Culture Magazine. May 2016.
6. Felony Tank By Malcolm Braly
Seventeen-year-old Doug is in the wrong place at the wrong time and ends up in jail. What happens next could only have been written by the author of It's Cold Out There. February 2016.
5. Only the Wicked By Cary Phillips
The fourth Ivan Monk mystery, never before published in paperback. A tense Los Angeles thriller with roots in the Deep South. Author Sara Paretsky calls Phillips "my kind of crime writer and Ivan Monk is my kind of detective." November 2015.
4. The Persian Cat By John Flagg
A post-World War II thriller set in Teheran featuring cynical agent Gil Denby. His mission: bring a beautiful traitor to justice. His odds: slim. August 2015
3. Stranger at Home By Leigh Brackett
Originally published as by the actor George Sanders, this domestic mystery by sf author Leigh Brackett is the story of a rich heel who comes back to get even with those who thought they had left him for dead. May 2015.
2. Eddie's World By Charlie Stella
Charlie Stella's first great crime novel, back in print and available in paperback for the first time! Eddie Senta is suffering a mid-life crisis and decides to get involved in a heist. Everything that can go wrong, does. May 2015.
1. Haven for the Damned By Harry Whittington
A group of eight people all converge on a small ghost town on the outskirts of the Mexican border, each with their own demons and dilemmas. They all want something they've lost: freedom, a lost wife, their youth. Not all of them will leave alive. May 2015.