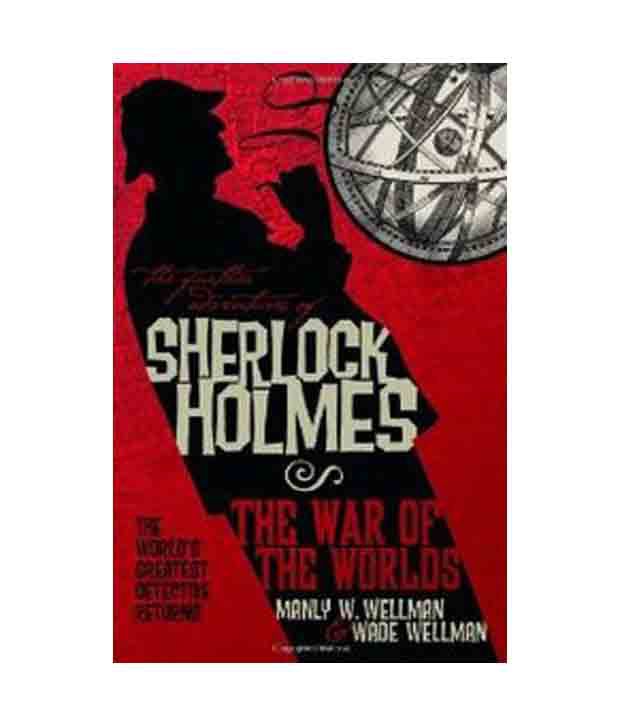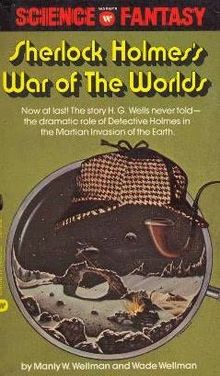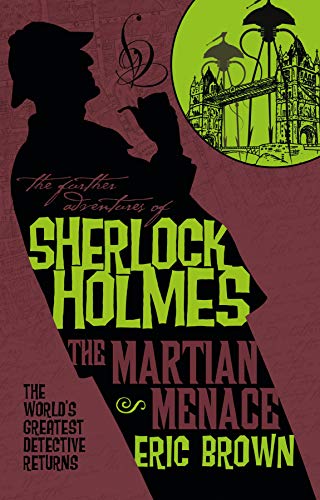 I enjoy the series of Sherlock Holmes pastiches that TITAN BOOKS publishes. Here are two books that feature a mash-up of Holmes and H. G. Wells' War of the Worlds. The first book, Manly Wade Wellman's Sherlock Holmes and War of the Worlds, was first published in 1975. TITAN BOOKS reprinted the book in their "The Further Adventures of Sherlock Holmes" series in 2009.
The action in Sherlock Holmes and War of the Worlds begins when Holmes buys a crystal egg in a variety shop in London. He discovers it actually is a communication device that links Earth with…Mars! Holmes shares his discovery with the other famous A. Conan Doyle character, Professor Challenger. Together, Holmes and Challenger determine that the Earth is about to be invaded. And, sure enough, they're right!
For part of the Invasion, Holmes goes his way and Challenger goes his way. But, eventually, Holmes and Challenger get back together to deal with the devastation and horror of death-rays, poison gas, and giant menacing robots.
Eric Brown's The Further Adventures of Sherlock Holmes – The Martian Menace (2020) opens with Holmes asked to investigate the death of the Martian Ambassador. The successful resolution of that case leads the Martians to approach Holmes once again when one of their famous philosophers is murdered. Holmes and Watson agree to investigate the case…on Mars! During their departure to Mars, Holmes and Watson discover they share their spaceship with another passenger: Professor Challenger!
I enjoyed Eric Brown's clever plot and the mysteries about the Martians that Holmes and Challenger manage to penetrate. If you're in the mood for a couple wonderful Sherlock Holmes pastiches with a Science Fiction flavor, I recommend Sherlock Holmes and War of the Worlds and The Further Adventures of Sherlock Holmes. GRADE: B+ (for both)