My wonderful cousin, Anne, gave us this unabridged audio book–38 discs, 48 hours of listening pleasure–on one of our visits to Boston. Diane and I decided when the coronavirus pandemic hit Western New York, we'd take advantage of the Stay-at-Home order and listen to Ron Chernow's Grant. So, for the past three months or so, Diane and I have been listening to Mark Bramhall narrate Grant during lunch. Each disc is about 70 minutes in length, so we'd typically listen to a half a disc each day.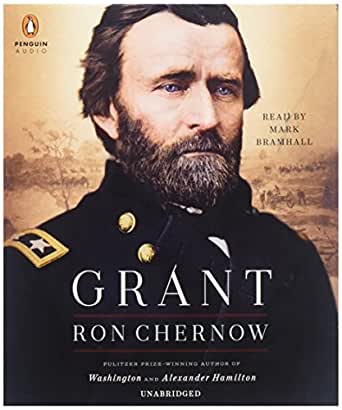 I knew a bit about Ulysses S. Grant from some of the history books I've read over the years. When I was in ROTC at Marquette University, I studied Grant's battles in the Civil War in our MILITARY HISTORY class. But listening to this audio book completely filled out the image I had of Grant as a brilliant tactician and strategist, but a man beset by problems.
Grant had no business sense. Time and time again, Grant was hoodwinked by people he trusted. Although Grant had integrity, many of the people he surrounded himself with did not. Grant's family used the famous man to their own selfish ends, especially Grant's father.
The recent toppling of a statue of Grant angered me because Grant supported freeing slaves, admired black soldiers, and fought for black voter rights in the South after the Civil War. The reason given for bringing down the statue of Grant was because "he owned slaves." Grant did not. His wife's family owned slaves before Grant married her. Grant and his wife never owned slaves.
From the minor military career to the generalship of the Northern forces, Grant's rise is impressive and surprising. Grant never aspired to higher positions, he was usually pushed into them because of his talents. Grant never wanted to be President, but he did so because he felt it was his duty.
There's no denying that Grant led a sad life, punctuated by successes and infrequent happiness. Grant was an alcoholic constantly fighting to stay sober. He smoked a dozen cigars a day which resulted in cancer of the mouth and throat. Grant labored in pain and agony as he was dying to finish his memoirs in order to not leave his wife penniless. Ron Chernow's biography is a classic. GRADE: A