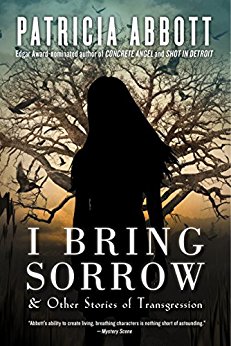 Patti Abbott's new book, I Bring Sorrow and Other Stories of Transgression will be published in the next few weeks. If you're read Patti's previous books, you'll want to order this one RIGHT NOW! I asked Patti if she'd like to do a faux-By the Book post for you to enjoy. Patti graciously agreed. Here's what she sent:
I am in Florida as I write this so the books on my nightstand are ones we have purchased here in the last three weeks. They include: Manhattan Beach by Jennifer Egan, Eligible by Curtis Sittenfeld, American Wife, Curtis Sittenfeld, The Nest by Cynthia D'Aprix Sweeney, The Burglar in the Closet, Lawrence Block, Sick Puppy by Carl Hiaasen and Trespass by Valerie Martin. I am sure by the end of our time here, the number will have doubled.
Offhand the books that have made me laugh the most over the years are the Hoke Moseley books by Charles Willeford, some Elmore Leonard, some Tom Perrotta, Lucky Jim, Kinglsey Amis, the work of David Sedaris, Jean Shepherd, David Lodge's academic novels, some Kurt Vonnegut.
Books that have made me cry? Number one is the New York Times since November 2016. Also Mice and Men, Wuthering Heights, Room by Emma Donoghue, Atonement, Ian McEwan, Disgrace, J.M. Coetzee, Things Fall Apart, China Achebe, King Leopald's Ghost, Adam Hochschild.
Three people who I'd invite to a dinner party? I have always found this a tough question because the writers you most admire or find interesting often seem inaccessible or intimidating. But if I could sit quietly and listen I would choose: Patricia Highsmith, Fran Leibowitz and Doris Lessing. I think these three women would be fun to watch have at it.
And don't forget to go to http://pattinase.blogspot.com/ tomorrow for Friday's Forgotten Books hosted each week by Patti Abbott!