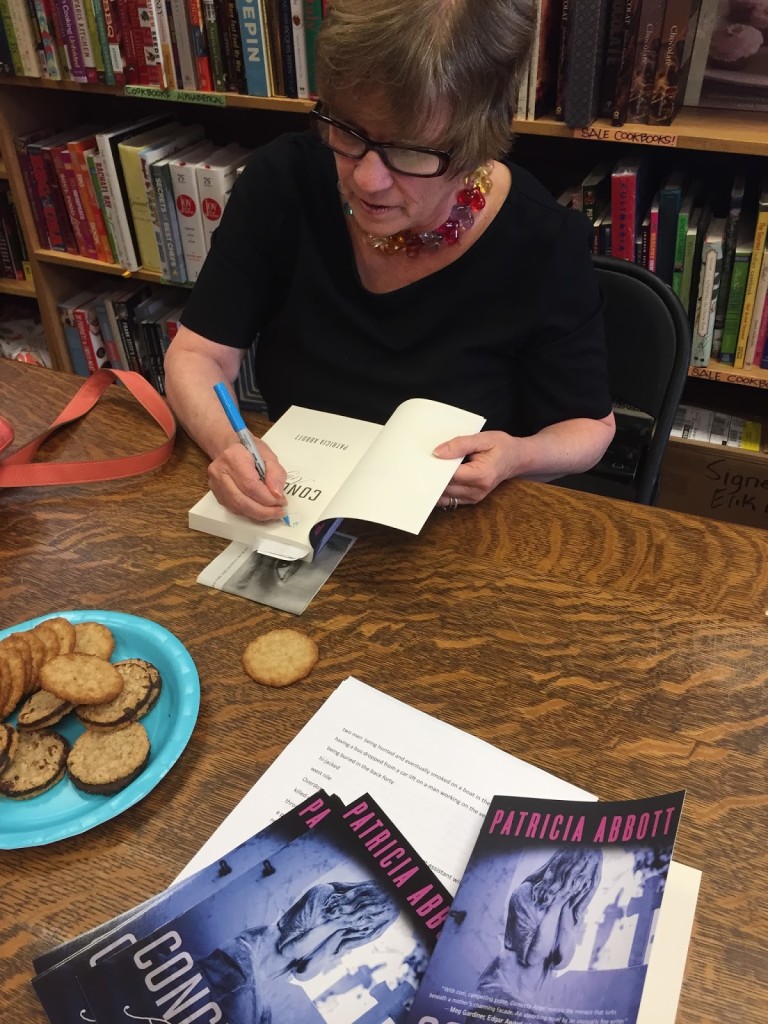 Patti Abbott is on a book tour promoting Concrete Angel (highly recommended!). But today she appears here on my blog answering questions about books. I met Patti and Phil at a Bouchercon in Indianapolis and later–with Jeff and Jackie Meyerson–we all went to see a play in Niagara-on-the-Lake, Canada. Patti and Phil are two of the nicest people you'd ever want to meet. Patti's been hosting Friday's Forgotten Books for years at http://pattinase.blogspot.com/ and provides great insights into movies and TV shows. I'm sure you'll find her comments below scintillating!
What books are currently on your nightstand
All of our books are packed so I'm reading on the Kindle. On my Kindle are THIS DARK ROAD TO MERCY, Wiley Cash, BAD FEMINIST, Roxanne Gay, HANGOVER SQUARE, Patrick Hamilton, WADING INTO WAR, Scott Parker, THE DEVIL SHE KNOWS, Bill Loefelm, THE MAGIC OF SHIRLEY JACKSON.
Who is your favorite novelist of all time?
I have read only one novelist who wrote six novels that were each perfect to me: Jane Austen.
What books might we be surprised to find on your shelves?
I have thought long and hard about this and I think the only thing that would surprise you is how many books I have bought and not read. I am talking in the hundreds. Always the lure of the new book I don't have pulls me away from the ones I do.
Who is your favorite fictional hero?
Frankie Addams from THE MEMBER OF THE WEDDING. She reminds me so much of the child I was: filled with longing, loneliness, romance, hysteria, hyperbole.
What novel do you return to?
Goodbye Columbus. It reminds me of being young. Of the mistakes you make, of the ardor you harbor.
Patti's next Book Event is JUNE 18th-New York, Mysterious Bookshop, a conversation with Bryon Quertermous (MURDER BOY)
58 Warren St, New York, NY 10007 7:00 PM