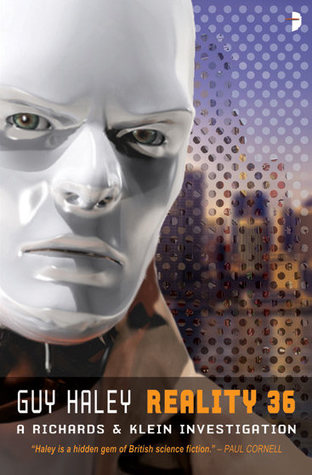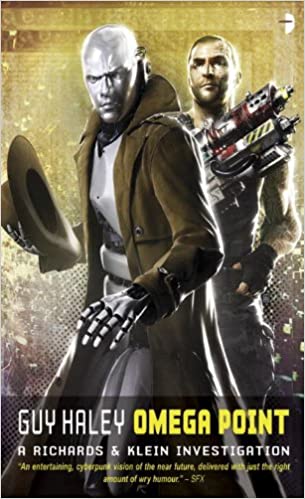 Guy Haley's Reality 36 (2011) and Omega Point (2012) should be read as just one long book. Subtitled "A Richards & Klein Investigation," both books feature Richards–a Class 5 Artificial Intelligence–and Otto Klein–a combat cyborg–who find themselves helping various Government agencies as the threat level zooms to disaster. Some unknown power is attempting to conquer the 36 Reality Realms–cyber worlds for the world's game players. This entity wants to use the digital worlds as a launching point for an attack on our real world.
While Richards and Klein investigate the invasion of the Reality Realms by a hostile entity, Veronique Valdaire–a skilled computer scientist–flees our reality to find her mentor, Professor Zhang Qifang, in the Reality Realms while teams of assassins hunt for her.
In Omega Point Richards also enters the digital Reality Realms and links up with a talking Bear and a lion that can shift from cloth to stone. Meanwhile, hostile elements attack Klein and Veronique in the real world as they try to find a hacker named Waldo who can threaten k52's plan to destroy all the humans on Earth.
Reality 36 was Guy Haley's first novel and the convoluted plot carries over to Omega Point. Haley learned from these books because the other Haley novels I've read, The Emperor's Railroad (2015) and The Ghoul King (2016), are much shorter and satisfying. You can read my reviews here and here. GRADE: B (for both books)