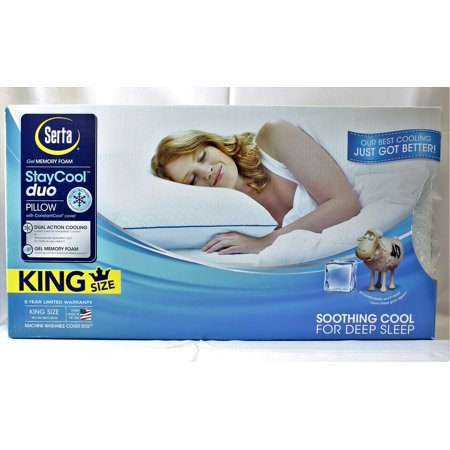 The Serta StayCool Duo Pillow is the most comfortable pillow I've ever slept on. A friend of mine recommended the Serta StayCool Duo Pillow because she hates pillows that get warm and force you to flip them over in the middle of the night. The Serta StayCool Duo Pillow listed for $119 for the King Size at Kohl's, but it was on sale for $89.99. Diane had a 30% off coupon (Diane has a coupon for everything!) which brought the cost down to around $60. Diane had some Kohl's Cash so that reduced the price to around $50. Worth every penny!
The Serta StayCool Duo Pillow features: "a unique 2-sided design allowing you to choose between firm and plush comfort. The firm side features our Cool Twist™ Gel Memory Foam for firm yet contouring comfort. The plush side features our EverCool® Memory Foam for enhanced cushioning comfort. The dual-comfort options makes this pillow ideal for all sleep positions and our unique two-sided design with Cool Twist™ Gel Memory Foam inside and EverCool® Memory Foam in the other side results in maximum comfort."
I'm delighted with my new Serta StayCool Duo Pillow! How's your pillow treating you?