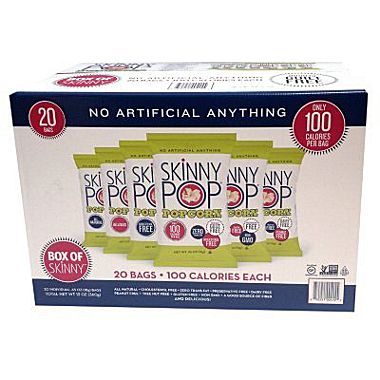 Sam's Club had this box of Skinny Pop marked down to practically nothing so we decided to try it. You get 20 Individual Snack Packs, 100 Calories Per Pack, 0g Trans Fat, Cholesterol Free, Non GMO, Gluten Free, Dairy Free, Nut Free popcorn. Here's the nutrition information:
Serving Size 1 package (3 g)
Per Serving % Daily Value*
Calories 100
Calories from Fat 54
Total Fat 6g 9%
Saturated Fat 0.5g 3%
Cholesterol 0mg 0%
Sodium 60mg 3%
Potassium 7.33mg 0%
Carbohydrates 10g 3%
Dietary Fiber 2g 8%
Sugars 0g
Protein 2g
Vitamin A 0% · Vitamin C 0%
Calcium 0% · Iron 11%
We liked the taste of Skinny Pop popcorn. We tried the White Cheddar variety, but didn't like that much. If you're looking for a quick, low-carb snack you might want to give Skinny Pop a try.