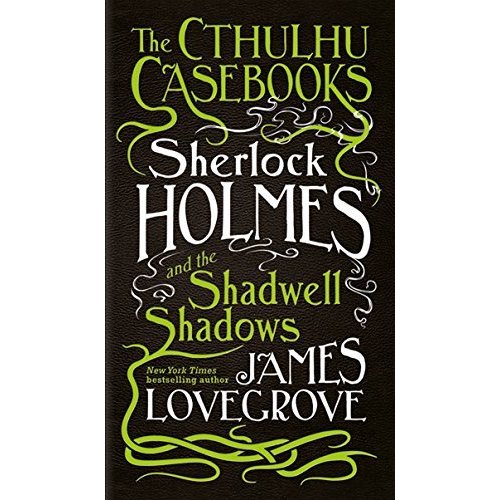 James Lovegrove's THE CTHULHU CASEBOOKS: SHERLOCK HOLMES AND THE SHADWELL SHADOWS (2016) tells a very different story of Holmes and Watson than The Canon presents. Holmes takes a dream-quest and discovers the Great Old Ones, the Outer Gods, and of course Cthulhu. Meanwhile, Watson reveals the real story of his military service injury from an attack in a terrifying cavern in Afghanistan where ancient creatures lurk.
Holmes and Watson investigate a series of murders where the victims are found drained and wasted as if their life forces had been sucked out of them. Their search takes them to the Dark Side of reality that H. P. Lovecraft presented in his classic works. Lovegrove has written a handful of conventional Sherlock Holmes pastiches-The Stuff of Nightmares (Titan Books 2013, ISBN 978-1781165416), Gods of War, (Titan Books 2014, ISBN 978-1781165430), The Thinking Engine, (Titan Books 2015, ISBN 978-1783295036)–and another book in this series, Sherlock Holmes and the Miskatonic Monstrosities (Titan Books 2017, ISBN 978-1783295951). If you're a fan of Holmes/Lovecraft mashups (and I am!) you'll have fun reading James Lovegrove's series. GRADE: B+
Hope you enjoyed Sherlock Holmes Week! Normal posting resumes tomorrow.