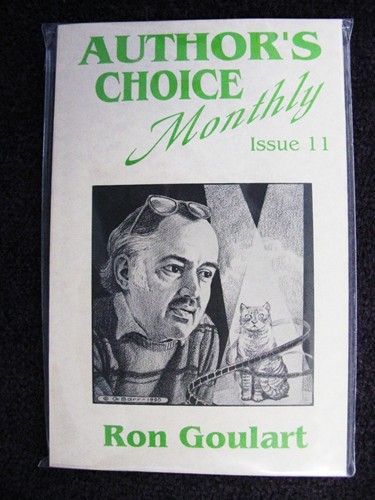 I've had Ron Goulart's Author's Choice Monthly #11 on my shelves since it was first published in 1990 by Pulphouse Publishing. I bought several of the Author's Choice Monthly volumes in the series…but I digress.
The Idea behind this series was to allow the writer to choose a handful of his favorite stories. Goulart had a fondness for supernatural elements in his stories and the stories in this collection reflect that. I enjoyed the Max Kearney story, "Hello From Hollywood." Kearney works in advertising, but his hobby is banishing ghosts. This particular ghost has taken possession of a TV executive and is picking winning TV shows for the Fall Schedule.
I also enjoyed "Groucho," a story of a reincarnated TV script writer who returns as a cat. "Crusoe In New York" doesn't have any supernatural elements, but it does have Time Travel as a woman from the Future visits our time to meet her favorite writer.
These Author's Choice Monthly volumes are fun to read. I'll review a few more for future Wednesday's Short Stories. GRADE: B+
TABLE OF CONTENTS: