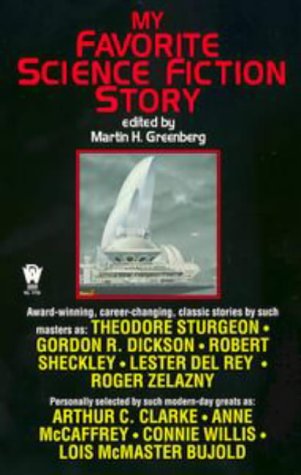 Some of the MY FAVORITE SF STORIES anthologies feature stories that the writer choses from his or her oeuvre. But in Marty Greenberg's My Favorite Science Fiction Story (1999), writers chose stories they love written by other writers.
Several of my favorite SF stories grace the Table of Contents. Love C. M. Kornbluth's "The Little Black Bag." What happens when a doctor's kit from the Future shows up now? The results will surprise you.
I'm also fond of Cordwainer Smith's "The Ballad of Lost C'mell," one of his most moving Instrumentality stories. And who can forget Keith Laumer's classic "The Last Command"?
A couple of these stories were new to me (or I had completely forgotten I read them). "Black Charlie" by Gordon R. Dickson explores what Art really is. And Greenberg cleverly ends this wonderful anthology with one of C. M. Kornbluth's darkest (yet insightful) stories about the price of ignoring the lessons of History. All in all, this is a great collection of stories. The short essays by the chosers also provide additional information about the writer and the story. Highly recommended! How many of these stories have you read? GRADE: A
TABLE OF CONTENTS:
Introduction — ix
The man who lost the sea / Theodore Sturgeon — Chosen by Arthur C. Clarke — 1
The last command / Keith Laumer — Chosen by Anne McCaffrey –13
Day million — Frederik Pohl — Chosen by Joe Haldeman — 32
The little black bag / C.M. Kornbluth — Chosen by Fredrick Pohl — 38
A galaxy called Rome / Barry N. Malzberg — Chosen by Mike Resnick — 67
Diabologic / Eric Frank Russell — Chosen by Andre Norton — 86
Untouched by human hands / Robert Sheckley — Chosen by Alan Dean Foster — 108
Black Charlie / Gordon R. Dickson — Chosen by Poul Anderson — 123
The ugly chickens / Howard Waldrop — Chosen by Harry Turtledove — 139
The mathenauts / Norman Kagan — Chosen by Greg Bear — 162
Lot / Ward Moore — Chosen by Connie Willis — 178
The ballad of lost C'mell / Cordwainer Smith — Chosen by Lois McMaster Bujold — 205
A Martian odyssey / Stanley G. Weinbaum — Chosen by L. Sprague de Camp — 226
Common time / James Blish — Chose by Robert Silverberg — 262
The engine at heartspring's center / Roger Zelazny — Chosen by Greg Benford — 273
Nerves / Lester del Rey — Chosen by Mariam Zimmer Bradley — 282
The only thing we can learn / C.M. Kornbluth — Chosen by David Drake — 356