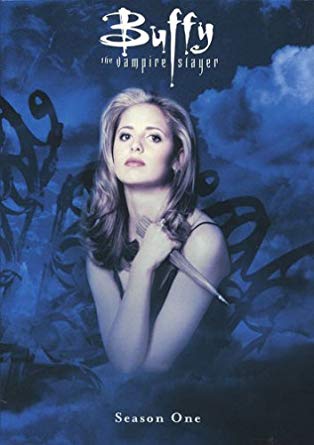 Buffy Summers (Sarah Michelle Gellar), who looks a high-school student, is actually a young woman with superhuman strength. Buffy is the "Chosen One," and her mission is to rid the world of Evil, mostly by killing demons and vampires. Pretty heady stuff for a teenager!
I bought this DVD set for a dollar at a recent Library Book Sale. Obviously they were selling more than books (I picked up a bag of CDs, too!).
The First Season of Buffy the Vampire Slayer, set mostly in Sunnydale High School. Buffy and her mother moved to Sunnydale after Buffy unfortunately torched her previous High School's gym. We're introduced to the other characters that assist Buffy in her fight against the Undead. The "Watcher" Giles (Anthony Stewart Head) provides essential information for Buffy's battles. There's a friendly geek called Xander (Nicholas Brendon), a computer nerd called Willow (Alyson Hannigan) who would blossom in upcoming Seasons, and snarky socialite called Cordelia (Charisma Carpenter). They all aid Buffy in her quest in various unusual ways.
Did you watch Buffy the Vampire Slayer on The WB back in 1997? Were you a fan? GRADE: A
EPISODES:
S01 E12 · Prophecy Girl
Jun 2, 1997
S01 E11 · Out of Mind, Out of Sight
May 19, 1997
S01 E10 · Nightmares
May 12, 1997
S01 E09 · The Puppet Show
May 5, 1997
S01 E08 · I, Robot… You, Jane
Apr 28, 1997
S01 E07 · Angel
Apr 14, 1997
S01 E06 · The Pack
Apr 7, 1997
S01 E05 · Never Kill a Boy on the First Date
Mar 31, 1997
S01 E04 · Teacher's Pet
Mar 25, 1997
S01 E03 · The Witch
Mar 17, 1997
S01 E02 · The Harvest (2)
Mar 10, 1997
S01 E01 · Welcome to the Hellmouth (1)
Mar 10, 1997