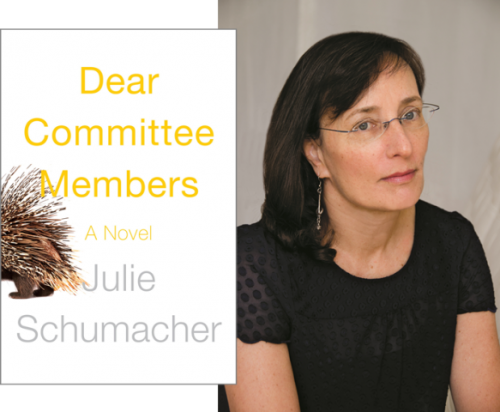 Dear Committee Members is a snarky, funny, and witty novel. Julie Schmacher captures the entropic decline of an English Department at a second-tier Midwestern college. She creates a cantankerous Professor of Creative Writing and Literature at Payne University, Jason Fitger. The novel is told through a series of Letters of Recommendation, some for students and some for colleagues. Anyone who ever taught at a college (or attended one) will instantly relate to Jason Fitger's acerbic comments about funding cuts and diminished resources for the humanities while departments like Economics get showered with money and staff. This slim novel (180 pages) displays the frustration and disillusionment of senior faculty in a time when higher education is in decline. But Dear Committee Members achieves its effects with humor. There were times I Laughed Out Loud while reading this book. It's been a long time since that has happened! Don't miss this funny book! Check out the sample LOR below. GRADE: B+
September 14, 2009
Ted Boti, Resident Sociologist and Chair
Department of English
Dear Ted:
You've asked me to write a letter seconding the
nomination of Franklin Kentrell for the University's
coveted Davidson Chair. I assume Kentrell is behind this
request; no sane person would nominate a man whose only
recent publications consist of personal genealogical
material and who wears visible sock garters in class–all he
lacks is a white tin basin to resemble a 19th century
barber.
But if you want me to endorse his nomination in order to
keep him quiet and away from your office (you will find him
as persistent and maddening as a fly), you may excerpt the
following sentences and affix my name to them:
"Professor Franklin Kentrell has a singular mind and a
unique approach to the discipline. He is sui
generis. The Davidson Chair has never seen his like
before."
A word on the call for official, written letters of
recommendation, Ted: I hope for the sake of all concerned,
you will cut back on these as much as possible. The LOR has
become a rampant absurdity, usurping the place of the quick
consultation and the two-minute phone call–not to mention
the teaching and research that faculty were supposedly hired
to perform. I haven't published a novel in six years;
instead, I fill my departmental hours casting words of
praise into the bureaucratic abyss. On multiple occasions,
serving on awards committees, I was actually required to
write LORs to myself.
Keeping my temper under wraps for the present,
J. Fitger
Professor of English/Creative Writing and Upholder of the Ancient Flame
Payne University
P.S.: I couldn't help but notice,
following the departure of the Economists, that our Tech
Help office has been largely vacated as well, a single
employee–the appropriately named Mr. Duffy Napp–left
behind to respond to faculty requests for computer
assistance. This surly somnambulist rarely deigns to answer
the most basic of questions, and treats with exhausted
dismay any individual who is not a specialist in computer
arcana. Might it be possible to exchange "the
Napper" for someone more civil and less lethargic?
P.P.S.: Thank you for your attention to
my office window, which now closes; but due to an impressive
crack in the frame–presumably due to the earsplitting
construction on the second floor–rainwater is trickling
merrily down the inside of the glass and, as I type
these words, entering the rusted slats of the heater. You
might want to send someone to take a look.