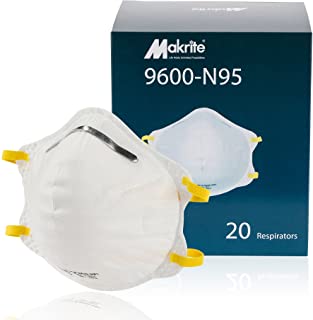 Once upon a time, I used to mow our lawn. We have a large lawn so it would take me 90 minutes or so to cut the grass. I have allergies to grasses and pollens so I used an N95 respirator to protect myself. After my knee surgeries, I gave up cutting the lawn. By that time Diane had her Fitbit and decided cutting the lawn would add to her "steps." So I passed the lawnmower over to Diane ( but I still gas it and start it up for her).
Meanwhile, I completely forgot about the box of N95 respirator masks sitting up in pantry…until today. I had an appointment with my General Practitioner, Dr. Galucci, today. During the appointment (where he wore a N95 mask), he mentioned the shortage of medical supplies and the lack of coronavirus test kits. I couldn't do anything about the test kits, but when I got home and told Diane what Dr. Galucci said, she went to the pantry and produced an almost full box of N95 respirator masks. I immediately called Dr. Galucci and offered to bring in the N95 respirators. He was thrilled!
When I entered the Waiting Room of the medical center, the nurses cheered as I gave the N95 respirators to the Receptionist. Glad I could help!