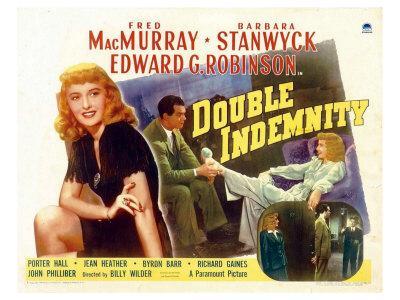 This is the 75th Anniversary of that great noir movie, Double Indemnity (1944). Directed by Billy Wilder, co-written by Wilder and Raymond Chandler, Double Indemnity ignited a series of noir movies in the Post-World War II era. The screenplay was based on James M. Cain's 1943 novel of the same name (which originally appeared as an eight-part serial in Liberty magazine, starting with the February 1936 issue).
Fred MacMurray portrays an insurance salesman who fails for the Wrong Woman. Crafty Barbara Stanwyck plays a provocative housewife who wishes her husband were dead (and that she had the insurance money, too). Savvy Edward G. Robinson plays an insurance claims adjuster whose job is to investigate suspicious claims. The term "double indemnity" refers to a clause in life insurance policies that doubles the payout in rare cases when death is caused accidentally.
Double Indemnity was nominated for seven Academy Awards yet did not win any. But today, Double Indemnity is considered a noir classic. Are you a fan of Double Indemnity?