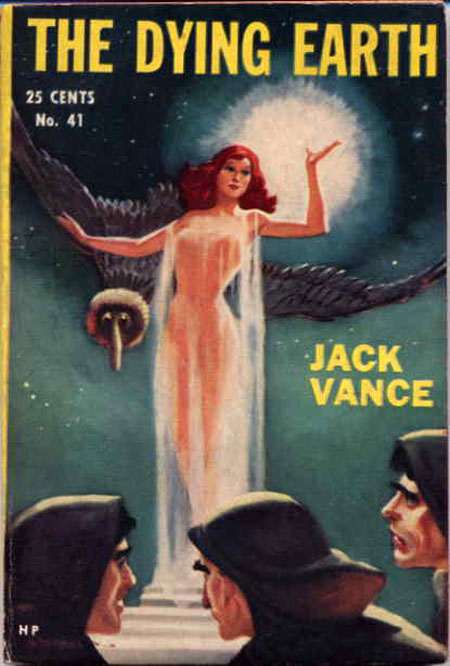 Do you have a book you've searched for over the years? I visited hundreds of used book stories over the decades, but I never found a copy of Jack Vance's The Dying Earth in the Hillman edition (1950). I have the very nice Lancer edition of The Dying Earth and maybe four or five other versions. But the original eluded me for 50 years.
A week ago, my sister Eileen in Arizona called me. "I found some old paperback books at a used bookstore. Do you want me to ship them to you?" Eileen asked. "Sure," I said. When the two boxes arrived, I unloaded some vintage SF paperbacks. Near the bottom of the box, I pulled out a book wrapped in plastic: the Hillman edition of The Dying Earth! In pristine condition! I almost swooned! What an unexpected delight!
I had almost given up finding a copy of the original paperback of The Dying Earth. I've seen (and held!) copies at Science Fiction conventions. But they were very pricey. Now I have my own mint copy and Life is Good! What are you searching for?
TABLE OF CONTENTS:
"Turjan of Miir"
"Mazirian the Magician"
"T'sais"
"Liane the Wayfarer" (also known as "The Loom of Darkness")
"Ulan Dhor Ends a Dream" (also known as "Ulan Dhor")
"Guyal of Sfere" (It mentions a "Lost Book of Kells", but a later publishing changed the name as there IS a book of Kells.