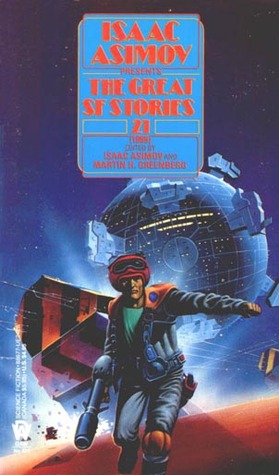 Look carefully at the Table of Contents and you'll notice that for the first time in 21 volumes of The Great SF Stories, no stories came from Astounding Science Fiction. By 1959, John W. Campbell and Astounding were in decline. And, you'll also notice, Science Fiction began being published in "Men's Magazines" like Playboy and Gent that paid a lot better than most SF magazines.
My favorite story in The Great SF Stories #21 (1959) is "What Rough Beast" by Damon Knight. Most SF readers regard Damon Knight as a great SF critic and a formidable SF editor. But, from 1955-1965, Knight published high quality stories. And "What Rough Beast" might be the best of them.
Also notable is Clifford D. Simak's "A Death in the House" about a peculiar First Contact in the wilds of Wisconsin. I remember that when I read "A Death in the House" as a kid, I was very moved. You will be, too.
I suspect that many SF writers in 1959 started to shift their output from SF short stories to SF paperback novels. Markets were opening up and the payments for books dwarfed the payments for short stories. GRADE: B+
TABLE OF CONTENTS:
Introduction by Martin H. Greenberg 9
"Make a Prison" by Lawrence Block (ORIGINAL SCIENCE FICTION STORIES, January 1959) 15
"The Wind People" by Marion Zimmer Bradley (IF, February 1959) 21
"No, No, Not Rogov!" by Cordwainer Smith (IF, February 1959) 45
"What Rough Beast?" by Damon Knight (THE MAGAZINE OF FANTASY AND SCIENCE FICTION, February 1959) 69
"The Alley Man" by Philip José Farmer (THE MAGAZINE OF FANTASY AND SCIENCE FICTION, June 1959) 101
"Day at the Beach" by Carol Emshwiller (THE MAGAZINE OF FANTASY AND SCIENCE FICTION, August 1959) 159
"The Malted Milk Monster" by William Tenn (GALAXY, August 1959) 173
"The World of Heart's Desire" by Robert Sheckley (PLAYBOY, September 1959) 199
"The Man Who Lost the Sea" by Theodore Sturgeon (THE MAGAZINE OF FANTASY AND SCIENCE FICTION, October 1959) 209
"A Death in the House" by Clifford D. Simak (GALAXY, October 1959) 225
"The Pi Man" by Alfred Bester (THE MAGAZINE OF FANTASY AND SCIENCE FICTION, October 1959) 251
"Multum in Parvo" by Jack Sharkey (GENT, December 1959) 273
"What Now, Little Man?" by Mark Clifton (THE MAGAZINE OF FANTASY AND SCIENCE FICTION, December 1959) 279
"Adrift on the Policy Level" by Chandler Davis (STAR SCIENCE FICTION 5, 1959) 323