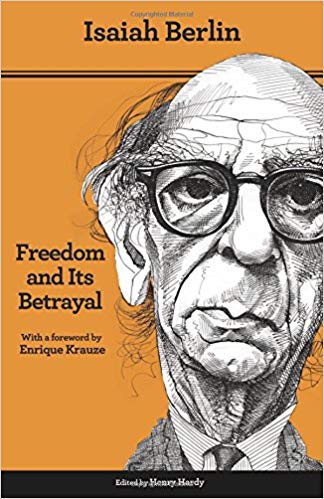 In these troubling times, I find relief in reading historical works that explain how we got into the mess we're in. I'm a huge fan of Isaiah Berlin, a polymath who wrote about philosophy and history and politics with clarity and wit. Freedom And Its Betrayal is a collection of Berlin's radio lectures on the BBC in 1952. In these brief lectures, Berlin shows how the ideas of key thinkers influence the politics and events of today.
My favorite lecture is on an historical figure I was unfamiliar with: Claude-Adrien Helvetius (1715-1776). Helvetius was a man of extreme positions. He believed most people were stupid so he advised the Government on the proper approach to Education. "[Educators] must not waste time on history because history is nothing but the talk of crimes and follies of mankind. It may have certain lessons to teach us–one may teach history if it is only to show why it is that humanity, as a result of being ruled by knaves, as a result of being duped too much by its earlier rulers, has not done as well as it might." (p. 18)
Isaiah Berlin proceeds to expose the anti-liberty aspects of the thoughts and writings of Rousseau who thought that "Man was born free and yet everywhere he is in chains." Liberty needs rules and a Government to enforce them. Rousseau believed freedom could just happen "naturally." Oops!
Fichte and Hegel believed History was the key factor in Life. Their writing focused on the patterns that create Historical movements and unleash the power of Ideas. Saint-Simon introduced Economics as the key factor in History. It was Saint-Simon that created the various income classes that Karl Marx would later use in his Communism writings. Maistre asserted the Divine Right of Kings and urged the elites that ran France to keep power away from the people.
If you're interested in politics and history, Freedom And It's Betrayal makes for wonderful reading. GRADE: A
Table of Contents
Foreword by Enrique Krauze xi
Editor's Preface xxiii
Introduction 1
Helvétius 11
Rousseau 28
Fichte 53
Hegel 80
Saint-Simon 113
Maistre 142
Appendix to the Second Edition
'Two Concepts of Liberty': Early Texts 169
References 269
Index 293