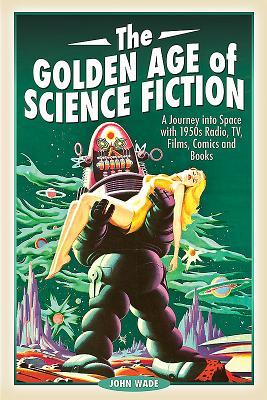 The Golden Age of Science Fiction according to John Wade is the 1950s. And this fun book makes the case for Wade's beliefs with plenty of photos and artwork reproductions. Science Fiction had an impressive presence on the radio with programs like Journey Into Space and Operation Luna. If you don't remember these radio programs, it might be because they were on the BBC. Wade grew up in England and The Golden Age of Science Fiction has a definite British skewing. Wade includes some wonderful graphics to capture the essence and feel of the radio programs.
Wade really hits his stride in his "Science Fiction on Television" chapter. He spends several pages on The Quatermass Experiment and its sequels. Wade praises the U.S. TV program Superman although he calls the robot in one of the episodes "unconvincing." There was also Tom Corbett, Space Cadet.
As for SF movies, Godzilla showed up in 1954 and defined a new genre of Science Fiction. Forbidden Planet (1956) created a sensation with its Robby the Robot. The Day the Earth Stood Still (1951) had a different kind of robot and a different message. Wade also praises Destination Moon (1950)–based on Robert A. Heinlein's Rocketship Galileo–for being as scientifically accurate as was possible in the 1950s. The movie that most affected me in the 1950s was War of the Worlds (1953). Wade includes the iconic movie poster in his presentation. Also discussed is the 3-D SF film, It Came From Outer Space (1953) (a movie I've never seen). Wade is also fond of This Island, Earth (1955). Perhaps the scariest SF movie of the 1950s was Invasion of the Body Snatchers (1956). I also remember seeing The Incredible Shrinking Man (1957) as a kid and loving it. Years later, I did see The Fly (1958). Wade even analyzes one of the worst movies ever made: Plan 9 From Outer Space (1959).
In the "Science Fiction in Books" chapter, John Wyndham–who wrote the classic The Day of the Triffids–leads off a series of 1950s writers like Isaac Asimov, Arthur C. Clarke, Ray Bradbury, Robert A. Heinlein, and Eric Frank Russell. I love the covers on the British paperbacks!
"Science Fiction Comics and Magazines" is the weakest chapter in the book. Wade writes about Astounding Science Fiction, Galaxy, and The Magazine of Fantasy and Science Fiction, but there were dozens of SF and fantasy magazines (some short-lived) in the 1950s. But, the cover reproductions are eye-popping!
If you're a fan of Science Fiction, this book will take you on a delightful trip down Memory Lane! GRADE: B+
TABLE OF CONTENTS:
Introduction p. vii
Chapter 1 Science Fiction on Radio p. 1
Chapter 2 Science Fiction on Television p. 29
Chapter 3 Science Fiction on Film p. 57
Chapter 4 Science Fiction in Books p. 101
Chapter 5 Science Fiction Comics and Magazines p. 151
Picture Credits p. 200
Index p. 204