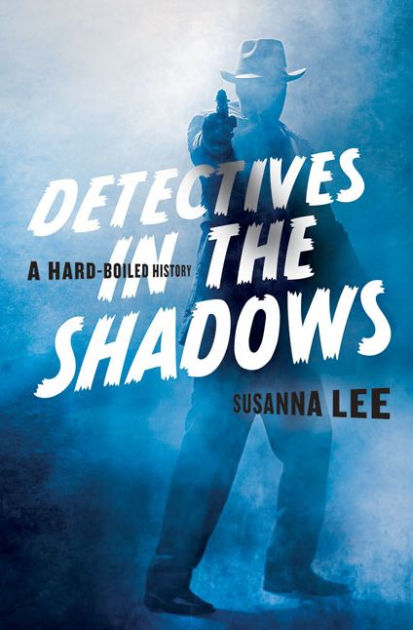 Susanna Lee's Detectives in the Shadows: A Hard-Boiled History starts with Carroll John Daly's "The False Burton Combs," first published in 1922 in Black Mask and moves on to Daly's next story Black Mask story, "Three-Gun Terry," featuring Terry Mack, a detective. But it was the 1923 story, "Knight of the Open Palm," that introduced the world to Race Williams and true hard-boiled detectives.
Less hard-boiled but just as tough as Race Williams was Dashiell Hammett's Continental Op. Black Mask launched the first installment of Red Harvest in it's November 1927 issue. A few years later, Raymond Chandler's short stories appeared and found their way into book form like The Big Sleep (1939), Farewell, My Lovely (1940), High Window (1942), The Lady in the Lake (1943), The Little Sister (1949), and The Long Goodbye (1953).
Susanna Lee explores the long career of Mickey Spillane starting with I, the Jury (1947), My Gun is Quick (1950), Vengeance Is Mine (1950), One Lonely Night (1951), The Big Kill (1951), and Kiss Me, Deadly (1952). Mike Hammer is the quintessential hard-boiled detective who shoots first and asks questions later.
Things became a bit more complicated (and more sophisticated) when Ross Macdonald and Robert Parker showed up with their more modern detectives. Lee writes about TV detectives–James Rockford and Harry O–but ignores the dozens of series detectives that filled the airwaves in the 1960s and 1970s. My only quibble about Detectives in the Shadows: A Hard-Boiled History is that many paperback detectives–Mike Shayne, Shell Scott, Johnny Liddell–are left out of this book. Maybe they'll show up in the sequel. Who's your favorite detective? GRADE: B+
TABLE OF CONTENTS:
Acknowledgments vii
Introduction. A Silhouette 1
Chapter One. Arriving on the Scene 11
Chapter Two. A Moral Compass 51
Chapter Three. A Rugged Individual 85
Chapter Four. A Lone Wolf 123
Chapter Five. A Person of Honor 149
Appendix: Selected Authors' Fictional Works 169
Notes 183
Bibliography 199
Index 209