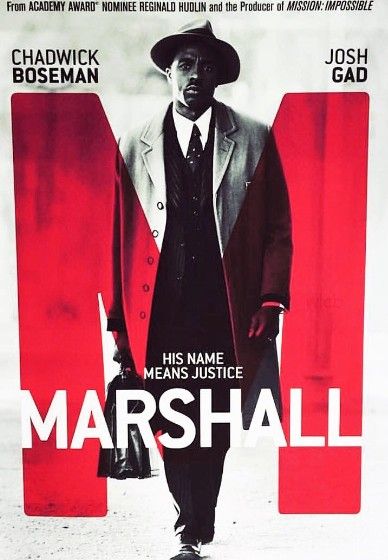 Although most of Marshall is set in 1941 Bridgeport, Connecticut what you'll be seeing on the screen is Buffalo, New York: Central Terminal, Delaware Park, Beard Avenue in North Buffalo, Statler City's former Rendezvous Room (doubling for Harlem's Minton's Playhouse), and City Hall. Yes, this film was mostly shot a few miles away from where I live.
Director Reginald Hudlin's movie about Thurgood Marshall–the first African-American Supreme Court Justice and the civil rights lawyer that won "Brown vs. Board of Education" that officially ended "legal" segregation and the "separate but equal" defense–features Chadwick Boseman as the prickly Marshall (soon to be a major star in Black Panther). Hudlin and Boseman take a risk by making Marshall initially arrogant and aloof and unsympathetic. Marshall is the NAACP's only full-time lawyer at this time. He defends cases of discrimination all over the country, but not all the black defendants get freed. That adds to Marshall's bitterness.
Marshall centers around a case where a black chauffeur (Sterling K. Brown) is accused by his female employer (Kate Hudson) of rape and attempted murder. Marshall hasn't passed the Bar in Connecticut so he needs a local lawyer to front for him. Sam Friedman (Josh Gad), a Jewish lawyer who specializes in insurance cases, finds himself Marshall's reluctant co-counsel. Marshall's contempt for Friedman's lack of criminal law experience soon turns to grudging respect as the two men work together to prepare a defense.
Marshall is one of the best movies I've seen in 2017. Don't miss it! GRADE: A