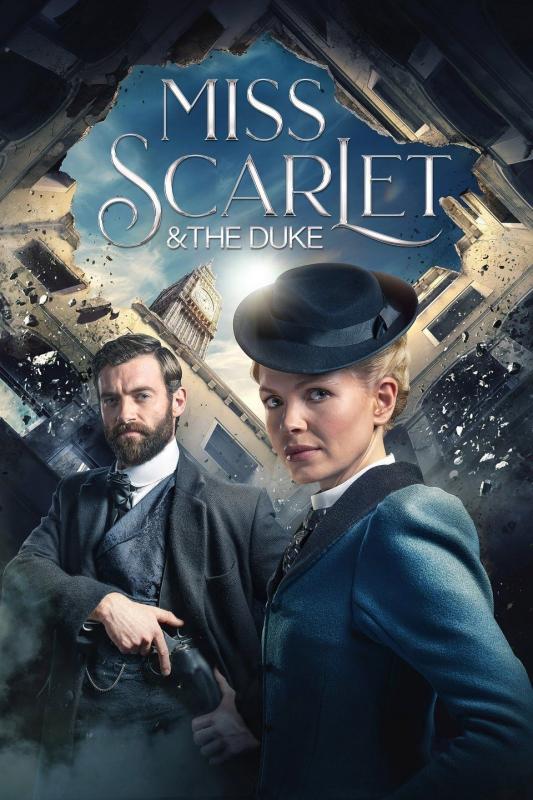 The Pandemic creates a time when Diane and I are watching TV programs that normally we wouldn't bother with. Miss Scarlet and The Duke is one of those programs. Yes, I like Kate Phillips, who plays Miss Scarlett–she did well in Downton Abbey and Wolf Hall–who is constrained by society to a very limited role. Her reliance on The Duke, William Wellington (played by Stuart Martin), a Scotland Yard detective, is a limiting factor.
The setting for this series is Victorian London in 1882. Eliza Scarlet is left almost penniless when her father, Henry Scarlet, unexpectedly dies. In a time when marriage is the only option for a woman's financial security, Eliza resolves to continue her father's detective agency alone. But to operate in such a sexist world of crime-solving Eliza needs help to generate cases and to build her reputation despite being a woman.
Eliza frequently calls on her old friend William Wellington (aka, The Duke), a gruff womanising Detective Inspector of Scotland Yard, to help her acquire cases. William was mentored by Eliza's late father through the police academy, and knew Eliza as teenagers where they once shared a chaste kiss. Henry saved William from the London streets as a child. William admired Henry and believes he owes Henry a debt of honor to protect Eliza. Though William is irritated by Eliza's detective aspirations, he cares for her and gradually begins to show respect for her investigatory skills.
Set the bar low and you'll enjoy Miss Scarlett and The Duke. Tonight is the Season One Finale. The earlier episodes are available ON DEMAND. GRADE: B- (for the entire series)