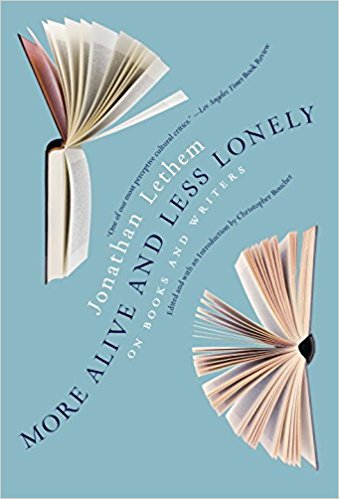 I'm a big fan of Jonathan Lethem's book reviews and articles. More Alive and Less Lonely collects dozens of great pieces. My favorites are the articles on Philip K. Dick. I wanted to drop everything and reread some PKD! You'll come away from with book with a list of books you'll want to read. The articles and reviews range from recent books to classics. You'll have an irresistible impulse to read Kafka's THE CASTLE (I know I did!). Just check out the Table of Contents so see the depth of this author's interests. GRADE: A
TABLE OF CONTENTS:
I. Engulf and devour —
The loneliest book I've read —
Footnote on Sylvie Selig —
Engulf and devour —
The figure in the castle —
The greatest animal novelist of all time —
The counter-Roth —
II. It can still take me there —
The only human superhero —
Forget this introduction —
What's old is new (NYRB) —
To catch a beat —
Footnote —
III. Objects in furious motion —
Fierce attachments —
Attention drifting beautifully (Donald Barthelme) —
Rock of ages —
My hero: Karl Ove Knausgaard —
A new life (Malamud) —
A mug's game —
Steven Millhauser's ghost stories —
IV. Lost worlds —
The mechanics of fear, revisited —
On the Yard —
Walter Tevis's Mockingbird —
Everything said and exhausted (Daniel Fuchs) —
How did I get here and what could it possibly mean? (Bernard Wolfe) —
'Twas ever thus (Tanguy Viel's Beyond Suspicion) —
Russell Greenan's Geniuses —
V. Ecstatic depictions of consciousness —
Consumed —
Dog soldiers —
Bizarro world —
On two sentences from Charles D'Ambrosio's "Screenwriter" —
Remarks perhaps of some assistance to the reader of Joseph McElroy's Ancient history: a paraphase —
VI. Thomas Berger and I have never met (Ishiguro, Berger and PKD) —
Kazuo Ishiguro —
The butler did it —
Footnote on Ishiguro —
High priest of the paranoids —
The man whose teeth were all exactly alike —
To Ubik —
Life after wartime —
Thomas Berger —
Letters from the invisible man: my correspondence with Thomas Berger —
Footnote on Berger —
VII. OK you mugs —
Heavy petting —
More than night —
You talkin' to me? —
New York characters —
Lost and found —
The original piece of wood I left in your head: a conversation between director Spike Jonze and critic Perkus Tooth —
Johnny's graying teenaged sense of what isn't boring (Da Capo Best Music Writing 2002) —
Close reading (Ricks on Dylan) —
Rod Serling —
Mutual seduction —
VIII. Fan mail —
Carved in need —
New old friend (a toast to Kenneth Koch) —
Eyes wide open —
Something about a slice —
Pynchonopolis —
To Cosmicomics —
Anthony Burgess answers two questions —
A furtive exchange —
Books are sandwiches.