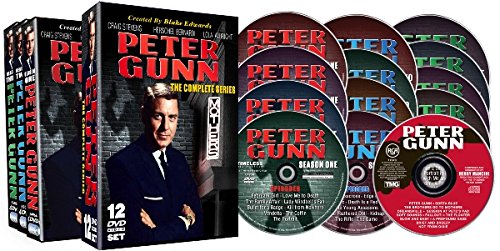 Peter Gunn: The Complete Series collects all 114 episodes (47 hours!) on 12 DVDs. Peter Gunn lasted for three seasons from 1958 to 1961. I was just 9-years-old when I heard the throbbing Henry Mancini "Peter Gunn Theme" that would go on to win two Grammy Awards. As a kid, I wasn't allowed to watch many episodes of Peter Gunn but the episodes I saw thrilled me!
I loved the music. Peter Gunn was the first TV program to feature modern jazz as its soundtrack. Blake Edwards, who created and produced Peter Gunn, actually directed a number of episodes. Edwards also recruited some of the best Hollywood directors like Robert Altman to do Peter Gunn episodes.
I also admired the suave private detective played by Craig Stevens (although he smokes too much). Peter Gunn's girlfriend, the gorgeous jazz club singer Edie Hart (played by Lola Albright), comforts Gunn after he gets beaten up (happens a lot!). Herschel Bernardi plays Gunn's cop friend, Lieutenant Jacoby.
STEELY DAN's Donald Fagen, in Eminent Hipsters, wrote of Peter Gunn: "Edwards' camera eye seemed to take a carnal interest in the luxe and leisure objects of the period, focusing on the Scandinavian furniture, potted palms, light wood panelling, and sleek, shark-finned convertibles. It was, in fact, all the same stuff my parents adored, but darkened with a tablespoon of alienation and danger."
I'm only 40 episodes into Peter Gunn, but I'm enjoying myself as I work my way through the series. If you're fond of classic TV detective shows, Peter Gunn is near the top of the list. Are you a fan of Peter Gunn? GRADE: A