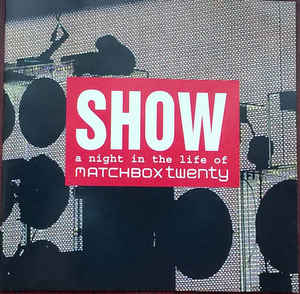 Wonderful Beth Fedyn sent me this DVD set of a Matchbox 20 concert in Georgia in 2004. In the late 1990s and early 2000s, Matchbox 20 was a popular group whose songs frequently hit the Top 10.
As you might expect, Matchbox 20 plays their most popular songs. I'm fond of "Real World" which includes the line we can all relate to right now: "I wish the Real World would just stop hassling me!"
Rob Thomas, the lead singer of Matchbox 20, does a fine job on "If You're Gone" and "3 AM." The enthusiastic crowd roared their approval. However, I wonder when a scene like this–a crowded arena with no social distancing or masks–will become Normal again.
Beth, thanks again for this wonderful gift! I really enjoyed it!!! GRADE: A
Matchbox Twenty ‎– Show (A Night In The Life Of Matchbox Twenty)
Label:Coming Home Studios ‎– CHS 10028, Lippmann Entertainment ‎– CHS 10028, Zoë Vision ‎– CHS 10028Format:DVD, DVD-Video, PAL, Multichannel, Dolby Digital 5.1, Dolby Digital Plus Stereo
DVD, DVD-Video, PAL
Country:EuropeReleased: Genre:Rock, Non-MusicStyle:Alternative Rock, Interview, Pop Rock
Tracklist
Concert
99:52
1-1
Cold
1-2
Real World
1-3
All I Need
1-4
Soul
1-5
Disease
1-6
Could I Be You
1-7
3 Am
1-8
Mad Season
1-9
Feel
1-10
Hand Me Down
1-11
If You're Gone
1-12
Bright Lights
1-13
Bent
1-14
Unwell
1-15
Back 2 Good
1-16
Downfall
1-17
You're So Real
1-18
So Sad So Lonely
1-19
Long Day
1-20
Push
Documentary, Gallery, Lyrics, Multi-Angles
117:17
2-1
Gallery
Lyrics
2-2
Cold
2-3
Real World
2-4
All I Need
2-5
Soul
2-6
Disease
2-7
Could I Be You
2-8
3 Am
2-9
Mad Season
2-10
Feel
2-11
Hand Me Down
2-12
If You're Gone
2-13
Bright Lights
2-14
Bent
2-15
Unwell
2-16
Back 2 Good
2-17
Downfall
2-18
You're So Real
2-19
So Sad So Lonely
2-20
Long Day
2-21
Push
–
2-22
Multi-Angle "Soul"
2-23
Multi-Angle "Bright Lights"
2-24
Documentary