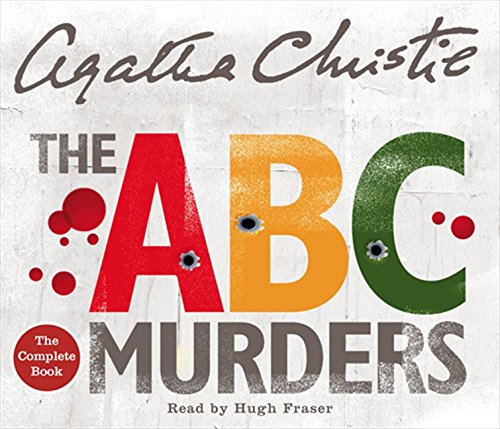 Diane's Book Club (now more of a virtual Book Club) chose Agatha Christie's The ABC Murders for their September book. Diane had never read it although she has read several Christie mysteries. I read The ABC Murders back in the 1960s when I went on an Agatha Christie binge and read a couple dozen of her mysteries in a row. It blew my mind!
When Diane tried to take out the LARGE PRINT edition of The ABC Murders from the Library, she discovered it was out (probably to one of her Book Club members). So Diane decided to take out the audiobook version. After listening to 38 CDs of GRANT listening to five CDs of The ABC Murders was a snap.
This audiobook version of The ABC Murders is "performed" by Hugh Frazer (the actor who plays Captain Hastings in the PBS Hercule Poirot series). Diane and I both liked Frazer's narration and his gift to create a unique "voice" for each character.
This 1936 mystery involves a serial killer who kills in alphabetical order: A is for Mrs. Ascher in Andover, B is for Betty Barnard in Bextill, C is for Sire Carmichael Clarke in Churston. An ABC Railway Guide is found near each dead body. And before each murder, the murderer sends Hercule Poirot a letter predicting (and gloating about) his crimes. If you haven't read The ABC Murders you're missing one of the more iconic mysteries in the Christie pantheon. Do you have a favorite Hercule Poirot mystery? GRADE: A