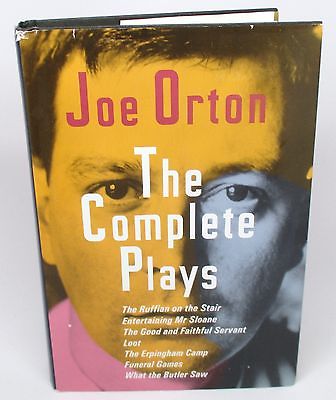 British playwright Joe Orton, on August 10, 1967, had his brains bashed out with a hammer wielded by his lover, Kenneth Halliwell. Halliwell then swallowed 22 sleeping pills and killed himself. I bring up these facts because Orton's plays, with their violence and sex and contempt for authority, foreshadow Orton's grim end. I read The Complete Plays because of a review of "What the Butler Saw" by Terry Teachout in the Wall Street Journal. For the 1960s, Joe Orton plays were Hot Stuff. Swearing, sex, mayhem, and railing against morality and religion. But Time has not been kind to these plays. The best ones, "Loot" and "What the Butler Saw," resemble screwball comedies with wacky characters and dizzy plots. The other plays were a slog. If you're interested in British drama from 50 years ago, Orton shows you what was trendy back then. GRADE: C
TABLE OF CONTENTS:
Introduction by John Lahr
The ruffian on the stair
Entertaining Mr. Sloane
The good and faithful servant
Loot
The Erpingham camp
Funeral games
What the butler saw.