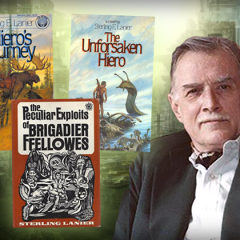 There is a genre loosely termed "Bar Tales." Lord Dunsany wrote 150 short stories written between 1925 and 1957 of these types of stories in his Jorkens series. Arthur C. Clarke wrote a similar series of stories later published in his Tales From the White Hart collection.
Tales from Gavagan's Bar is a celebrated collection of fantasy short stories by American writers L. Sprague de Camp and Fletcher Pratt. Callahan's Crosstime Saloon series by Spider Robinson is equally popular with readers of this genre.
I'm a fan of Sterling Lanier's Ffellows tales. Take "Kings of the Sea" for example. Ffellows tells the listeners in the bar about an adventure he experienced in his youth that nearly cost him his life. The unusual events in "Soldier Key" produces another hair-raising adventure.
If you're in the mood for some Tall Tales and incredible happenings, I highly recommend The Peculiar Exploits of Brigadier Ffellowes. GRADE: A
TABLE OF CONTENTS:
"Introduction" (Arthur C. Clarke) (English edition and later American edition only) — v
"His Only Safari" (1970) — 1
"The Kings of the Sea" (1968) –25
"His Coat So Gay" (1965) — 47
"The Leftovers" (1969) — 77
"A Feminine Jurisdiction" (1969) — 87
"Fraternity Brother" (1969) — 113
"Soldier Key" (1968) — 129