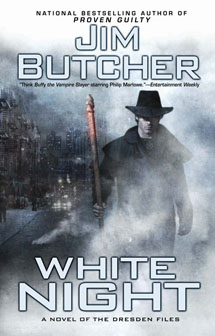 The 9th book in the Harry Dresden series features Dresden in a desperate quest to clear his vampire brother, Thomas, from a cunning plot by powerful Magical Interests.
Harry Dresden, professional Wizard and Private Investigator for the City of Chicago, grew up an orphan. His upbringing included a lot of physical and mental abuse which explains his taciturn disposition. But, as we Harry Dresden fans all know, Harry has a heart of gold under his gruff exterior. So when Harry's brother, Thomas, is in Big Trouble, Harry throws caution to the winds to save him.
In addition, Harry takes on a mentorship role of Molly, a teenager who dabbled in Black Magic. Harry accepts his role despite the provision that if Molly ever resorts to Black Magic again, she–and he–will be executed by the White Council of Wizards.
There's a lot going on in White Nights and the pages turn with rapidity. If you're looking for escapist reading, here it is! GRADE: B+