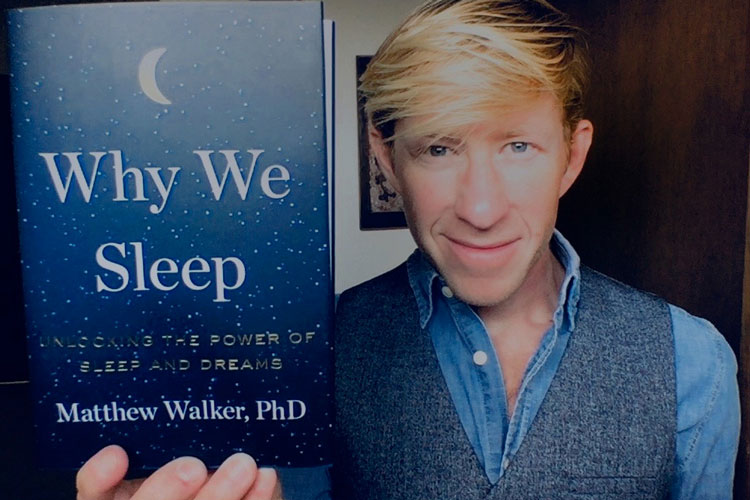 Matthew Walker is a sleep researcher who shares his findings about sleep in Why We Sleep. Many sleep studies show sleep rejuvenates our immune system. One chapter in Why We Sleep begins: "Bad sleep, bad heart." The connection between poor sleep and heart problems is strong. People with cancer find their disease metastasizes faster if they don't get the necessary eight hours of sleep per day.
Walker also discusses sleep's effects on mental health, dementia, and Alzheimer's. The chapters on improving sleep present several suggestions for a better night in the Land of Nod. Why We Sleep is clearly written and full of timely information. Highly recommended! How is your sleep? GRADE: A
TABLE OF CONTENTS:
Part 1 This Thing Called Sleep
Chapter 1 To Sleep … 3
Chapter 2 Caffeine, Jet Lag, and Melatonin: Losing and Gaining Control of Your Sleep Rhythm 13
Chapter 3 Defining and Generating Sleep: Time Dilation and What We Learned from a Baby in 1952 38
Chapter 4 Ape Beds, Dinosaurs, and Napping with Half a Brain: Who Sleeps, How Do We Sleep, and How Much? 56
Chapter 5 Changes in Sleep Across the Life Span 78
Part 2 Why Should You Sleep?
Chapter 6 Your Mother and Shakespeare Knew: The Benefits of Sleep for the Brain 107
Chapter 7 Too Extreme for the Guinness Book of World Records: Sleep Deprivation and the Brain 133
Chapter 8 Cancer, Heart Attacks, and a Shorter Life: Sleep Deprivation and the Body 164
Part 3 How and Why We Dream
Chapter 9 Routinely Psychotic: REM-Sleep Dreaming 193
Chapter 10 Dreaming as Overnight Therapy 206
Chapter 11 Dream Creativity and Dream Control 219
Part 4 From Sleeping Pills to Society Transformed
Chapter 12 Things That Go Bump in the Night: Sleep Disorders and Death Caused by No Sleep 237
Chapter 13 iPads, Factory Whistles, and Nightcaps: What's Stopping You from Sleeping? 265
Chapter 14 Hurting and Helping Your Sleep: Pills vs. Therapy 282
Chapter 15 Sleep and Society: What Medicine and Education Are Doing Wrong; What Google and NASA Are Doing Right 296
Chapter 16 A New Vision for Sleep in the Twenty-First Century 324
Conclusion: To Sleep or Not to Sleep 340
Appendix: Twelve Tips for Healthy Sleep 341
Illustration Permissions 343