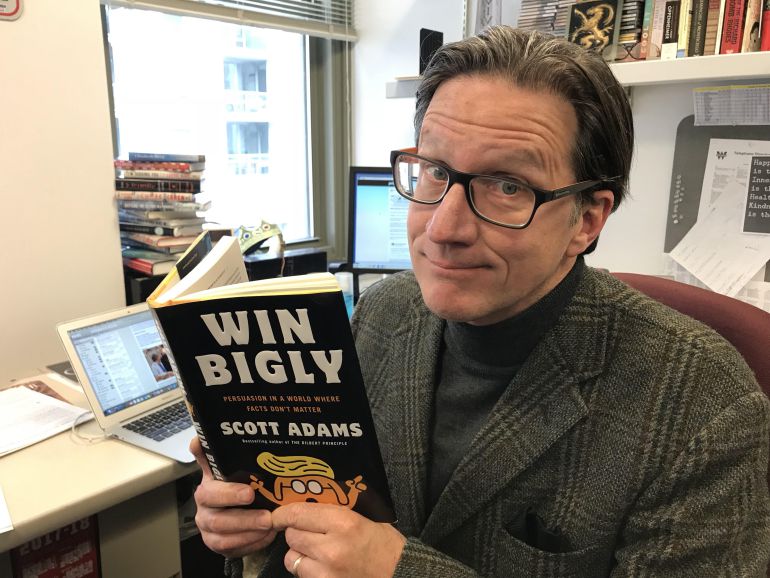 Scott Adams is the incredible cartoonist behind DILBERT. In the run-up to the 2016 Presidential Election, Adams predicted a Donald Trump win–a year before the vote. WIN BIGLY tells the story of how Scott Adams came to realize Trump was going to win the Election. And, in the process, Adams explains how Trump's strategies of persuasion work. For example:
"I'm having a fun time watching President Trump flood the news cycle with so many stories and outrages that one one can keep up. Here's how the math of persuasion works in this situation:
1 outrage out of 3 headlines in a week: bad persuasion.
25 outrages out of 25 headlines in a week: excellent persuasion
At this moment, there are so many outrages, executive orders, protests, and controversies that none of them can get enough oxygen in our brains. I can't obsess about problem X because the rest of the alphabet is coming at time at the same time." (p. 145)
This is just one of Trump's strategies to mess with our minds. Once Scott Adams explains it, it seems obvious how Trump gets away with everything no matter how egregious. Terrific book! GRADE: A
TABLE OF CONTENTS:
Preamble: The day my reality split into two xi
Introduction (where I prime you for the rest) 1
Part 1. Why facts are overrated 13
The most important perceptual shift in history 15
About facts 19
Persuasion vocabulary 27
Part 2. How to see reality in a more useful way 31
The myth of the rational mind 33
How strong is persuasion? 36
The persuasion filter 38
Cognitive dissonance 48
Confirmation bias 60
Mass delusions 62
When reality bifurcated 67
The making of a hypnotist 71
Part 3. How President Trump does what others can't 83
The time of kings 85
President Trump's talent stack 90
Trump's Rosie O'Donnell moment 94
The persuasion stack 99
Setting the table 116
Go bigly or go home 120
Is President Trump a "natural" persuader? 123
Part 4. How to use persuasion in business and politics 127
How to design a linguistic kill shot 129
How to use visual persuasion 137
How to make people imagine you as President 143
How I got the VP prediction wrong 148
How to persuade by association 151
How to create effective campaign slogans and logos 154
Godzilla gets in the game (or does he?) 162
How to get away with bad behavior 169
How a trained persuader evaluates scandals 174
How to win by a hair(cut) 187
How to create two ways to win, no way to lose 189
How to use the high-ground maneuver 194
A grab bag of Trump's quickest and easiest persuasion tools 198
Part 5. Why joining a tribe makes you powerful and blind 205
How I used the persuasion filter to predict 207
Why I endorsed Clinton (for my safety) until I didn't 217
The third act 235
Was I predicting or causing? 243
Election night 253
ACKNOWLEDGMENTS 257
Appendix A: The persuasion reading list 261
Appendix B: How to be a better writer 265
Appendix C: Hos to find out is you are a simulation 267
Appendix D: Trump's many mistakes 271
NOTES 275
INDEX 281