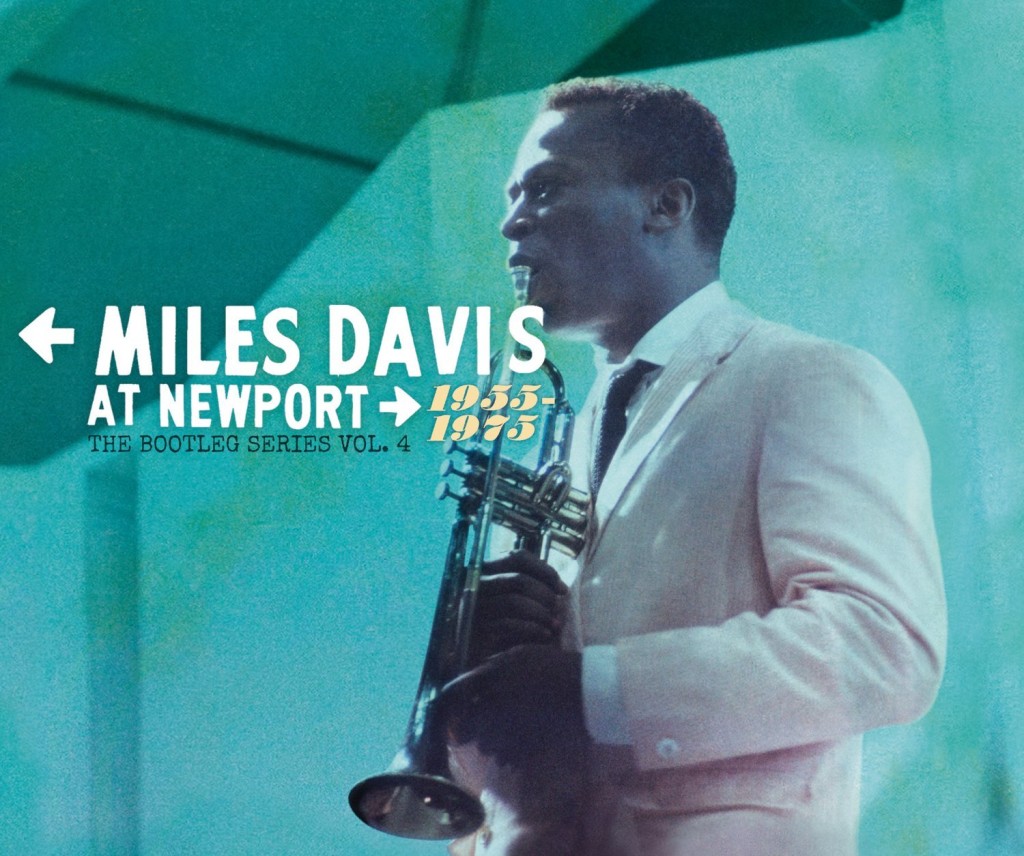 I played trumpet as a kid. I wanted to grow up to play as well as Miles Davis did (but that didn't happen). Miles Davis evolved over his long career. His music changed and morphed with highs and lows. This new box set of Miles Davis Newport Jazz Festival recordings, most unreleased until now, will give a much fuller account of the development of Miles Davis's music. If you're a Miles Davis fan, this is a must-buy. If you're a casual jazz fan, there's plenty here for you to enjoy. GRADE: A
Here's a summary of what's on each disc. My thanks to Stuart Jefferson on AMAZON for his opinions. I agree with everything he says.
Disc 1 begins with tracks 1-4 from 1955 with Davis playing with Zoot Sims, Gerry Mulligan, Monk, Percy Heath, and Connie Kay. Tracks 5-11 are from 1958 and feature Cannonball Adderley, Coltrane, Bill Evans, Paul Chambers, and Jimmy Cobb. Most of this music has been issued previously, but it's nice to hear this music in it's proper context with Davis' other Newport sets. This is obviously Davis' more straight ahead jazz period which was very popular with both fans and critics alike. The music has a time-locked feel to it but has that underlying swing like the best jazz from this era.
Disc 2--tracks 1-6 are from 1966, tracks 7-13 are from 1967. The band for both sets had players like Wayne Shorter, Herbie Hancock, Ron Carter, and Tony Williams. This is one of Davis' best groups who had a large hand in changing the sound of jazz. You can hear how his band is pushing against the older style of jazz, and while in the present it's hard to understand how "new" this music sounded, some fans wondered even then if Davis had gone off the rails a bit.
Disc 3 has tracks 1-3 from the 1969 gig (there's a fade-in on track 1 "Miles Runs The Voodoo Down"), tracks 4-9 from 1973 (from Berlin under the Newport banner), and track 10 from 1975 from N.Y. Musicians on the '69 set include Dave Holland, Chick Corea, and Jack DeJohnette, wihile the '73 sets include Dave Liebman, Pete Cosey, Reggie Lucas, Michael Henderson, Al Foster, and Mtume. In '75 the band was Sam Morrison in for Liebman, and the rest of the band from the '69-'73 bands. This is where Davis took a look around (especially at performers like Sly Stone) and funked up his music. Henderson's deep throbbing electric bass really changed the sound of Davis' music. Out were any recognizable melodies and in came some electro-cosmic music.
Disc 4 tracks 1-7 are from a 1971 gig in Switzerland under the Newport banner. This set is out of chronological order so it would fit uninterrupted on one disc. This gig featured Gary Bartz, Keith Jarrett, Michael Henderson, Leon Chancler, and Don Alias and Mtume. Percussion heavy electric-funk/space music with Henderson's mighty bass and Bartz blowing both soprano and alto sax, along with Jarrett's electric piano made the audience sit up and wonder where they were. Again, in hindsight it's difficult to understand what all the fuss was really about. But by this time many of Davis' long time fans had already dropped by the wayside–more comfortable with more recognizable melodies that stayed in your head.
The 34 page booklet has individual essays on Davis' Newport appearances by noted jazz writer Ashley Kahn, along with photographs from each period. There's also a poster of a b&w photo (approximately 14″ X 18″) of Davis from early in his career. The discs snap (beware mine were really difficult to unsnap out of the trays) inside a five-fold cardboard package. Inside each disc tray is a different b&w photo from the Newport festival–a nice (and cool looking) touch. The overall period sound is good/very good–especially considering when some of these tapes were made under live conditions. Original sources include Voice of America (Disc 1), Sony analog tapes (Discs 1,3), the producer's collection (Discs 2,3), and analog tapes courtesy of SRF Switzerland (Disc 4).
TRACK LIST
Disc: 1
1. Spoken Introductions by Duke Ellington and Gerry Mulligan
2. Hackensack
3. 'Round Midnight (previously released)
4. Now's The Time
5. Spoken Introduction by Willis Conover (previously released)
6. Ah-Leu-Cha (previously released)
7. Straight, No Chaser (previously released)
8. Fran-Dance (previously released)
9. Two Bass Hit (previously released)
10. Bye Bye Blackbird (previously released)
11. The Theme (previously released)
Disc: 2
1. Gingerbread Boy
2. All Blues
3. Stella By Starlight
4. R.J.
5. Seven Steps To Heaven
6. The Theme / Closing Announcement by Leonard Feather.
7. Spoken Introduction by Del Shields
8. Gingerbread Boy
9. Footprints
10. 'Round Midnight
11. So What
12. The Theme
13. Closing Announcement by Del Shields
Disc: 3
1. Miles Runs The Voodoo Down (previously released)
2. Sanctuary (previously released)
3. It's About That Time / The Theme (previously released)
4. Band warming up / voice over introduction
5. Turnaroundphrase
6. Tune In 5
7. Ife
8. Untitled Original
9. Tune In 5
10. Mtume
Disc: 4
1. Directions
2. What I Say
3. Sanctuary
4. It's About That Time
5. Bitches Brew
6. Funky Tonk
7. Sanctuary