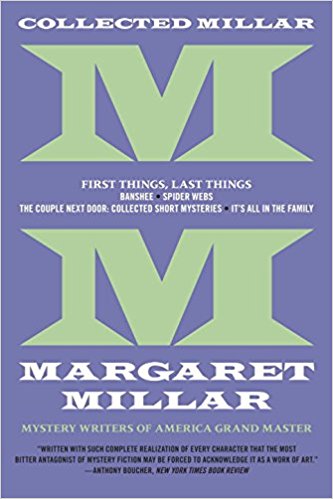 I'm impressed with the Collected Millar series that is reprinting the works of Margaret Millar. Some of Millar's works have been out-of-print and unavailable for years. These well-crafted, inexpensive SOHO PRESS trade paperbacks bring Margaret Millar's work to a new audience. Volume Six includes Millar's collected short fiction which I hadn't read before this. Millar's novels explore social situations disrupted by crime. If you haven't read any Margaret Millar, you're in for a treat! GRADE: A
TABLE OF CONTENTS:
Banshee (1983) p. 1
The death of the daughter of wealthy Californian landowners disrupts the community.
Spider Webs (1986) p. 101
Twelve jurors–with individual motives and prejudices–judge the case of a Caribbean yacht captain accused of murdering a wealthy white client for her jewelry.
Collected Short Fiction with an Introduction by Tom Nolan (2004) p. 241
Two novellas and three short stories feature two of Millar's favorite characters: the psychologist Dr. Paul Prye and Detective Inspector Sands.
It's All in the Family (1948) p. 403
Out of print for decades, Margaret Millar's bestselling novel centers around a precocious young girl named Priscilla. This semi-autobiographical story of a pre-World War II childhood captures the mood of America in the 1930s.